10.1 COMMUNITY SERVICE PROGRAMS
A snapshot of the programs and activities of UC's Division of Agriculture and Natural Resources illustrates their impact throughout California.
10.1.1 UC agriculture, environment and natural resources programs, and UC natural reserve sites, Fall 2014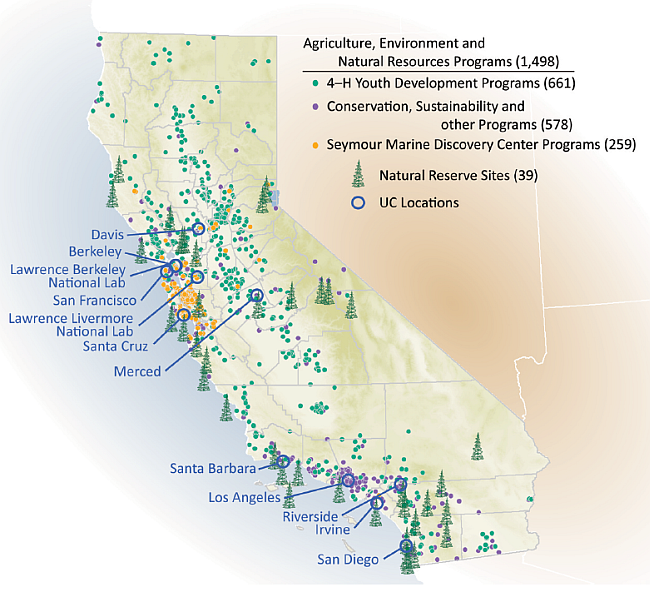 Source: UC Campuses
UC is California's only land-grant institution, and its Division of Agriculture and Natural Resources (ANR) assumes the responsibility of focusing on the agricultural needs of the state and its communities. ANR's infrastructure includes 200 locally based Cooperative Extension advisers and specialists, 57 offices throughout California, 130 campus-based specialists, nine Research and Extension Centers, and 700 affiliated AES academic researchers.
ANR plays a key role in addressing pressing issues related to climate change and drought conditions. For example, ANR's California Institute of Water Resources conducts research that informs public policy and provides advice to growers and residents on how to conserve the state's water supply.
There are 1,498 partnership programs related to agriculture, environmental conservation and natural resource management. These include the 4-H Youth Development Programs, which serve more than 130,000 California youth, as well as programs run by the UC Santa Cruz Seymour Marine Discovery Center, the Center for Agroecology and Sustainable Food Systems, and the Master Gardener Program, among others. ANR's 4-H programs provide research-based curriculum and staff training to community and youth-serving agencies, supporting education for children ages 5 to 19 in a variety of areas, including environmental, plant and animal sciences.
Honoring UC's environmental stewardship role, the UC Natural Reserve System (NRS) manages a network of protected natural areas throughout California. Its 39 sites include more than 756,000 acres, making it the largest university-administered reserve system in the world.