The major portion of UC's capital project funding over the last ten years derives from nonstate fund sources.
13.1.1 Sources of capital spending, Universitywide, based on budgets approved each year, 2004–05 to 2013–14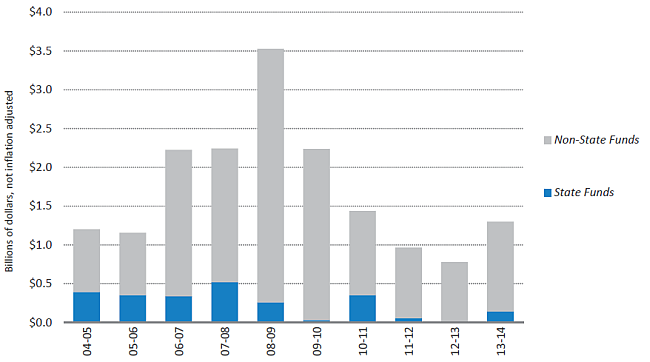 Source: UC Capital Programs
UC's capital program is funded by a combination of state and nonstate funds. State funds were historically the primary source of funding for core academic facilities. Nonstate sources fund self-supporting enterprises, such as housing, parking, athletics and medical enterprises, which are generally not eligible for state funding.
State funding for the University's capital improvement projects has been unpredictable over the last five years as a result of the economic downturn and the state's objective to reduce its overall bond debt. The University had anticipated approval of general obligation bond measures in the past few voting cycles, yet these measures were never placed on the ballot. The last general obligation bond measure passed in November 2006. Over the past decade, nonstate funds, which include gifts, grants, bonds and other sources, have accounted for almost 85 percent of UC's capital program funding.
Nonstate funding represents a diverse set of fund sources to support the capital projects. The use of long-term debt has played an increasingly pivotal role in supporting the University's capital program.