4.1 GRADUATE ACADEMIC ADMISSIONS
Universitywide graduate academic applications have increased substantially over the last ten years, while admits and new enrollments have remained relatively flat.
4.1.1 Graduate academic applications, admits and new enrollees, combined and by citizenship, Universitywide, Fall 2005–2014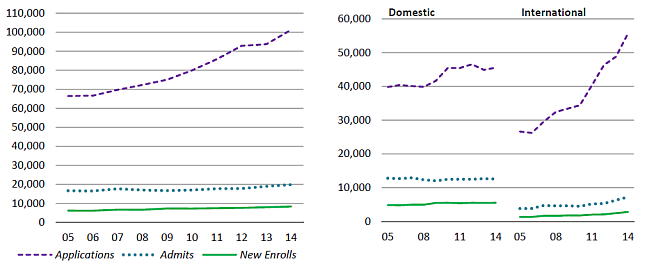 Source: UC Corporate Student System
The demand for UC's academic master's and doctoral programs1 has increased steadily over the past ten years. During this time, applications2 for admission grew from 66,000 in 2005 to more than 100,000 in 2014 — a rate of 5 percent per year. Nearly all of this increased demand has come from prospective international students, whose applications grew from 26,000 to more than 55,000 — a rate of 11 percent per year. International students now submit more than half of all applications to UC's academic master's and doctoral programs, though the growth is primarily attributable to master's and not doctoral programs.
Recent survey data compiled by the Council of Graduate Schools shows a similar nationwide trend, with applications from prospective international students growing at about 7 percent per year, on average, since 2005 — ranging from 2 to 12 percent per year. Engineering, physical sciences and computer science experienced the most robust growth in demand from international applicants, with double-digit growth in most years since 2010.3
Despite this more robust demand, new admits and enrollments to UC's academic master's and doctoral programs have remained relatively flat. Since 2005, new admits and enrollments have grown by only about 2 percent per year, with admits remaining at just below 20,000 per year and new enrollments at about 8,000 per year. Unlike applications, which are now predominantly from international students, both new admits and enrollments of domestic students are about double those of international students.
1 A small number of professional doctoral programs are also included in these data.
2 Universitywide applications and admits are duplicated in this report since students often apply to more than one campus. These are the numbers of applications and admits, not the number of applicants.
3 Findings from the 2014 CGS International Graduate Admissions Survey