More than half of ladder-rank and equivalent faculty are in STEM (science, technology, engineering and mathematics) and health sciences disciplines. The largest (and growing) percentage of non-ladder-rank faculty is employed in the health sciences.
5.1.1 Faculty by discipline, headcount, 1998 and 2014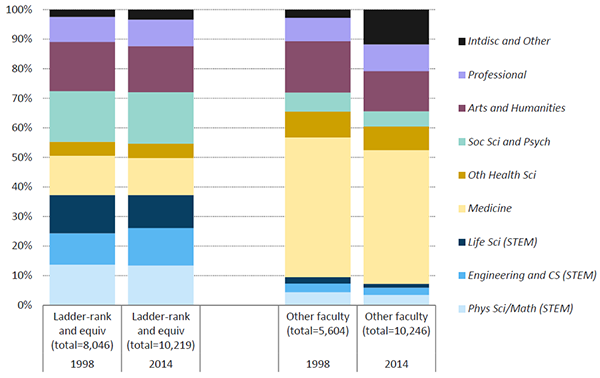 Source: UC Corporate Personnel System1
The growth in faculty over the last 15 years has not been evenly distributed across academic disciplines. Among ladder-rank and equivalent faculty, the most significant change over the past 15 years has been a shifting emphasis in the STEM disciplines. The largest growth has been in engineering and computer science — not a surprising development given the dramatically increased demand among students for training in this fast-growing sector of the economy. Headcount in other faculty series has increased by more than 4,600 (about 75 percent) since 1998 — a much greater increase than in the headcount of ladder-rank and equivalent faculty (about 2,200 or 27 percent). The most significant increase in non-ladder faculty has been in medicine.
1 Data shown are headcount numbers for all faculty members. "Other faculty" includes lecturers and senior lecturers, visiting and adjunct faculty, instructional assistants and the clinical faculty series. Other health sciences include nursing, dentistry, pharmacy, optometry and veterinary medicine.