Staff growth has been greatest in UC Health, encompassing the teaching hospitals and health science education programs. Since 2007, UC Health has seen staffing increase by nearly 14 percent. In contrast, general campus staff levels (excluding student employees) grew by only 6 percent. This is less than half of the 15 percent increase in general campus student enrollment over this same period.
6.1.1      Staff FTE (full-time-equivalent) workforce growth over time, Universitywide, Fall 2007 and 2014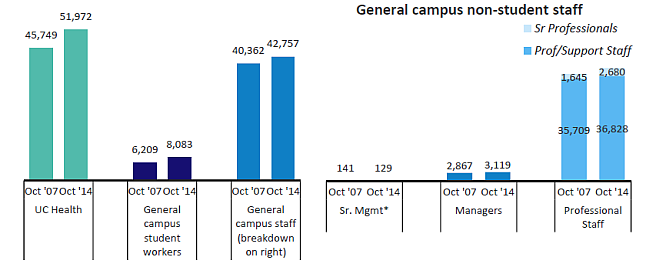 Source: UC Corporate Personnel System
* In 2010, certain academic administrators (mostly deans) were moved from the SMG category to the Academic category in recognition that their primary role is academic. Eighty-one Senior Management FTE are excluded from the Oct '07 General Campus nonstudent staff figure to provide accurate comparisons between 2007 and 2014. All staff measures in this chapter exclude Lawrence Berkeley National Laboratory, Hastings School of Law and Associated Students UCLA.
UC operates five teaching hospitals as well as schools of medicine, dentistry, nursing and other health sciences education and research programs. Together these UC Health hospitals and academic programs have experienced proportionally greater growth in staffing since 2007 than the remaining components of UC (including the Office of the President), which are considered "General Campus." Teaching hospitals and other health sciences programs accounted for more than half of the nonacademic staff increase between 2007 and 2014 (6,222 FTE); this growth is largely related to increased demand for medical care. General Campus nonstudent staff accounted for less than one-fourth of the growth (2,493 FTE), and student employees accounted for about one-fifth of staff growth (1,873 FTE); this growth in student employees is largely related to the additional 31,000 students UC has enrolled on the general campuses over this period.
About half of the student employees in staff positions are work-study students who work on-campus as part of their financial aid package. The growth in Senior Professional staff is a reflection of the professionalization of UC's workforce, similar to changes seen in the wider labor market over the past seven years. This has resulted in growth of more analytical and technical jobs and a reduction in the clerical workforce. The other area with significant growth is professional support staff, which includes such diverse occupations as nurses, computer analysts and technicians, administrative and financial analysts, clerical assistants, groundskeepers, food service workers and many others.