8.1       Instructional workforce
In most disciplines, full-time permanent faculty constitute more than half of the instructional workforce.
8.1.1      Instructional workforce FTE composition, by employee type and discipline, Universitywide 2013–14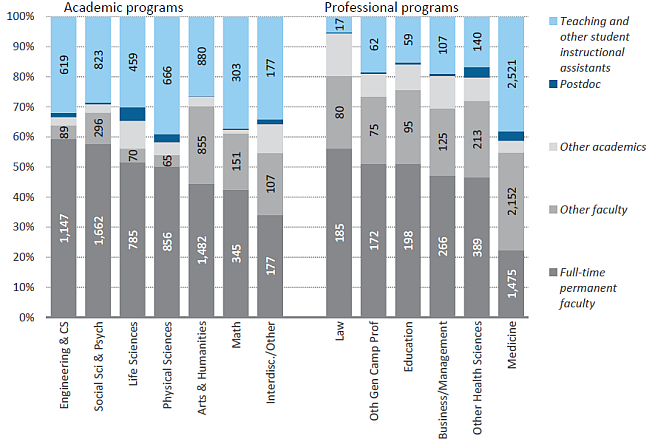 Source: UC Corporate Personnel System1
In most disciplines at UC, full-time permanent faculty constitute half or more of the instructional workforce. Some fields, however, require a different composition. Medical education, for example, relies more heavily for instruction on faculty who also have clinical roles; other faculty play a greater instructional role in the arts and humanities (e.g., writing and languages).
"Other faculty" in this indicator includes clinical faculty, most lecturers, adjuncts, faculty in residence and visiting faculty. "Student instructional assistants" refer to students acting in supporting roles, such as teaching assistants, readers and tutors. They are more commonly found in academic disciplines, and typically lead labs and discussion sections for large lecture courses.
Because full-time permanent faculty have demonstrable scholarship and research experience, their instruction is a valuable part of a student's learning experience. When faculty incorporate their pre-publication research results into their courses, UC students gain access to insights and discoveries even before they are presented to the wider research community. 
1Academic support staff, such as clerical staff, administration and advisers, including students working in these titles, are excluded. The "Other academics" category includes administrators and researchers who have instruction functions. Data are for full-time-equivalent number of academic employees paid with instructional funds.