Between 2001–02 and 2014–15, state educational appropriations decreased from 23 percent of UC revenues to 10 percent.
12.1.1 Revenues, by source, Universitywide, 2001–02 to 2014–15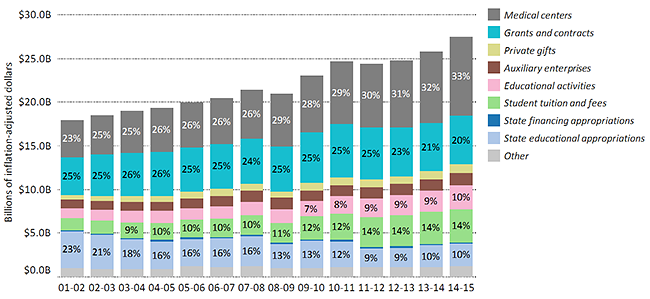 Source: UC Revenue and Expense Trend Report
The steep decline in state educational appropriations as a proportion of UC's total revenues over the past decade is a function of two trends: first, a long-term decline in state support from $4.1 billion to $2.8 billion in inflation-adjusted dollars; second, an increase in revenues from other sources, such as medical centers, contracts and grants, and student tuition and fees.
State educational appropriations are for educational and other specific operating purposes, whereas state financing appropriations provide principal and interest payments for lease-purchase agreements. Educational activities are primarily medical professional fees.
Private gift funding shown in the chart above does not include gifts to UC foundations that are reported in the foundations' audited financial statements and not in the UC-wide statements. Gifts to campus foundations represent about 55 percent of total private giving to UC.