1.1 APPLICANTS, ADMITS, AND ENROLLEES
Demand for UC admission continues to grow from freshman applicants.
1.1.1 Freshman applicants, admits, and enrollees, Universitywide, Fall 1994 to 2018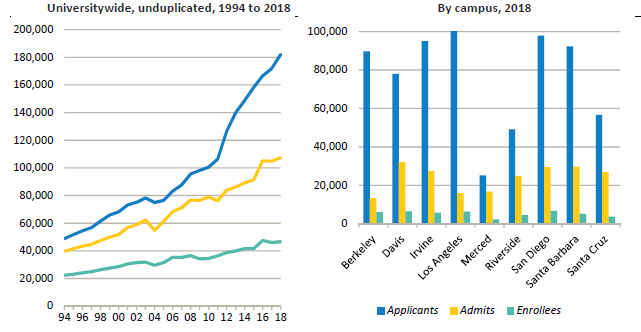 Source: UC Data Warehouse1
From 2011 to 2018, unduplicated freshman applicants increased 71 percent (or about eight percent per year), from about 106,000 to about 182,000, compared to a 42 percent increase in the seven-year period between 2004 and 2011 (or about five percent per year), from about 75,000 to 106,000. The 71 percent growth represents about 76,000 applicants, including about 35,000 California residents.
Most campuses admit less than half of applicants. Many applicants apply to more than one UC campus; in fall 2018, UC applicants applied to an average of 3.8 campuses. Freshman applicants increased for all campuses in fall 2018. The data tables on UC freshman applicants, admits, and enrollees by campus over time can be found here.