UC faculty receive many prestigious awards because they are thought leaders in their fields.

13.1.1 Nobel Prizes by campus affiliation
Nobel Winners Table

| | | | | | | |
| --- | --- | --- | --- | --- | --- | --- |
| | Chemistry | Economics | Literature | Medicine | Physics | Peace |
| Berkeley/Berkeley Lab | 9 | 5 | 1 | 1 | 8 | |
| Irvine | 2 | | | | 1 | |
| Livermore Lab | | | | | 1 | |
| UCLA | 3 | 1 | | 1 | 1 | |
| Riverside | 1 | | | | 1 | |
| San Diego | 5 | 3 | | 6 | 2 | 1 |
| San Francisco | | | | 5 | | |
| Santa Barbara | 2 | 1 | | | 4 | |
Sixty-four faculty and researchers affiliated with the University of California have won 65 Nobel Prizes, representing nearly seven percent of the 935 laureates.
A list of UC's laureates can be found at nobel.universityofcalifornia.edu.

13.1.2 Prizes, medals and awards won by UC faculty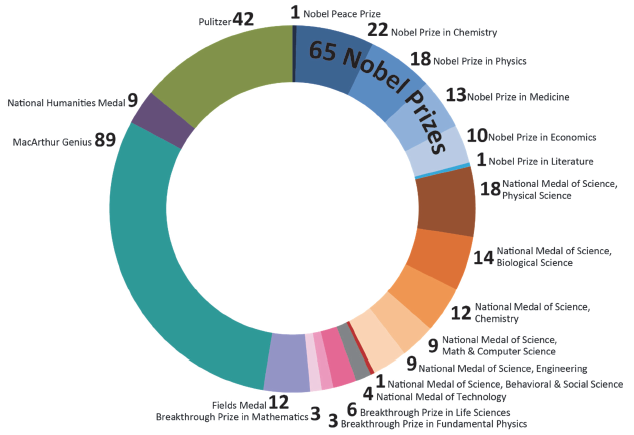 In addition to the 296 prizes, medals and awards presented in the chart above, many UC faculty are members of prestigious National Academies, providing leadership in service and general welfare to the nation.
National Academy of Sciences: 616
National Academy of Engineering: 265 
National Academy of Medicine: 222 
National Academy of Inventors: 72