Over 60 percent of UC freshmen graduate within four years, a higher rate than comparable AAU public universities. 
3.1.1 Freshman graduation rates for all students, UC and comparison institutions, Cohorts entering fall 2012, 2013 and 2014; fall 2011 cohort for AAU comparison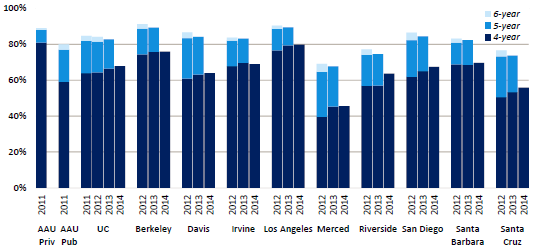 Source: UC Data Warehouse and IPEDS1
UC's six-year graduation rate is higher than that of comparable AAU public institutions. UC's four-year graduation rates for freshmen have risen significantly since 1997, from 46 percent for the 1997 entering cohort to 68 percent for the 2014 cohort. In recent years, UC Riverside and UC Santa Cruz improved their four-year graduation rates by about seven and three percentage points, respectively. These improvements are due to factors including campus programs supporting four-year completion, improvements in academic preparation of incoming students, and the current cost of a UC education, all of which motivate students to complete their degrees.
UC's freshman six-year graduation rate is 84 percent, which is almost a five percent increase over the past twenty years. The final graduation rate is 86 percent.
By 2030, UC is striving to raise four-year completion to 76 percent and six-year completion to 90 percent. UC is seeking financial support from the state to achieve these goals.
More information on trends in UC freshman graduation rates can be found here.