UC Health staff has grown significantly as health services have expanded, while general campus, non-student support staff growth has lagged behind enrollment over the past decade.
6.1.1      Staff Full-time Equivalent (FTE), Universitywide, October 2008* to 2018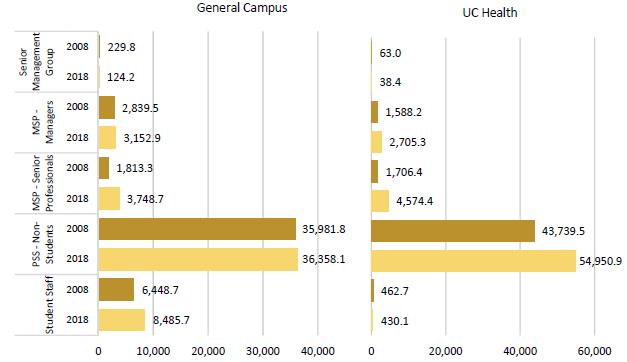 Source: UC Corporate Personnel System
* The Oct 2008 Senior Management FTE includes 81 positions (mostly Deans) that in 2010 were recategorized as academic employees. Excludes Lawrence Berkeley National Laboratory, Hastings School of the Law, and Associated Students UCLA.
UC operates six health systems with five academic medical centers as well as schools of medicine, dentistry, nursing, and other health sciences education and research programs. Altogether, UC Health accounts for nearly 75 percent of non-academic staff growth over the past ten years. The growth has been driven by service expansions such as increases in inpatient days as well as outpatient/emergency visits. General campus student employees increased by 2,037 FTE, largely related to the additional 60,000 students UC enrolled over this period. Increased enrollment translates to more student employees working on campus as part of their financial aid packages.
General campus, non-student staff has seen the greatest growth amongst Senior Professionals, due to both the implementation of Career Tracks and the professionalization of UC's workforce towards higher-skilled analysis and technical capabilities. Career Tracks is a function-specific, market-aligned job classification system that applies consistent interpretations of which positions are Management and Senior Professional (MSP) and which are Professional and Support Staff (PSS). Within PSS, there has been a significant shift away from clerical roles into student services positions and administrative analysis to manage growing campuses and student bodies.