EXECUTIVE SUMMARY
The University of California was founded with a simple but revolutionary idea: to create a great public university that would educate the wealthy and low-income alike, so all could benefit. For more than 150 years, the University has stayed true to that vision, becoming an essential partner to State leaders in efforts to strengthen and grow California's economy through social mobility, leadership in new and emerging fields, and the development of research-based solutions to pressing societal challenges. Today, this partnership is exemplified by ambitious shared goals through 2030 for increasing college graduation rates, narrowing educational achievement gaps, and ensuring that California retains its competitive edge through a highly skilled and educated workforce. The hardships and disruptions of the COVID-19 pandemic have made reaching these goals more challenging, but also more essential to California's future.
This year's Executive Summary details UC's progress on its 2030 goals, and also highlights other important work underway across UC, including examples of how the University is meeting the challenges of climate change, supporting the health care needs of Californians — particularly in underserved communities — and producing the next generation of talented faculty and researchers who reflect the diversity of our state. A number of these goals are built into UC's Compact with the Governor, a five-year funding plan that would allow the University to increase enrollment, boost resources to help underrepresented groups achieve academic success, and expand college access and affordability for students and families across the state.
A screenshot of the UC 2030 dashboard and a full list of Accountability Report indicators are included in the appendix.
UC research combats the climate crisis
Climate disruptions are becoming more severe and taking many forms: wildfires so large and hot that they create their own weather, record-breaking heat waves and years of drought resulting in a vanishing Sierra snowpack, only to be followed by unprecedented atmospheric rivers and cyclone bombs that overwhelm waterways and levies, deepening the snowpack to the point where vital agricultural land is threatened by major flooding. Climate change not only has caused billions of dollars in damage and property loss and imperils key California industries, especially agriculture, it has become one of the biggest threats to human health. Against this backdrop, the University of California is leveraging its research and operations — including UC's Agriculture and Natural Resources and its network of local Cooperative Extension sites — to build on the resilience of our communities.  
These new efforts, funded with $100M in climate action grants from the state, derive from years of basic science dedicated to understanding the dynamics of the atmosphere, in order to ground practical solutions to climate change, and grow new industries that can help us meet the moment.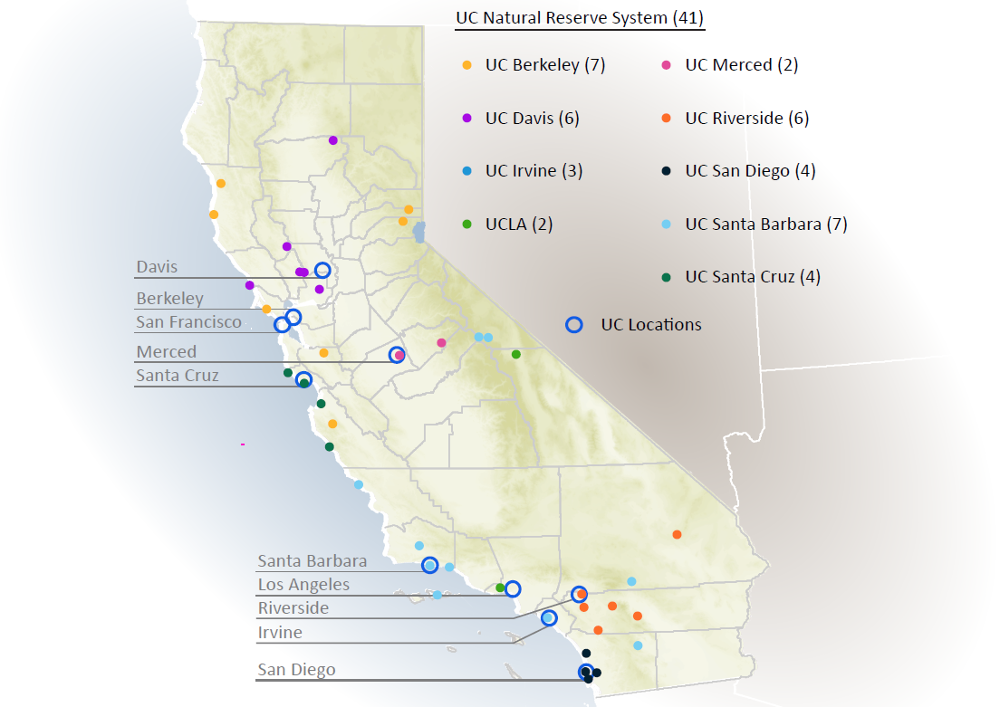 UC Natural Reserve sites (9.1.7)
UC's Natural Reserve System, which encompasses all of California's major ecosystems, is playing a critical role in understanding how climate change is affecting California's biodiversity. It is also protecting regions of ecological significance and providing outdoor laboratories for UC researchers across the system for the development of nature-based solutions to the environmental crisis. As part of the new state-funded climate action grants, the NRS received $1 million to fund projects that include the development of new technologies — including digital acoustic recorders and camera traps — that provide crucial, real-time data on the impacts visible in California's vulnerable wildlife.   
Replacing fossil fuels with renewable sources of energy is a vital national goal. UC is responsible for fundamental breakthroughs that will accelerate the transition. Just this year, UC researchers at the Lawrence Livermore National Laboratory's (LLNL) National Ignition Facility achieved fusion ignition —producing more energy from fusion than the laser energy used to drive it. This major scientific discovery could eventually revolutionize clean energy production and help us achieve a net-zero carbon economy. In support of California's push to increase the use of electric vehicles, UC Riverside and the Lawrence Berkeley National Laboratory are partnering to map the quantity and quality of lithium — a critical mineral used in electric vehicle batteries — under the Salton Sea in Imperial County. UC Berkeley, UC Davis, and LLNL are also using Nobel Prize winning CRISPR technology to combat climate change, including efforts to develop plants that could remove billions of tons of carbon from the air each year. Researchers are using those same gene-editing techniques to develop crops that can withstand increased drought, more frequent flooding, and higher temperatures, and grow without the use of artificial fertilizers — a promising advance for California's $50 billion agriculture industry and ray of hope in the effort to increase global food security.
UC research goes beyond the lab, through universitywide efforts to bring new discoveries to market. For example, UC Merced is leading a pilot project to test the effectiveness of putting solar panels over the state's water canals. Initial research found that this win-win solution could save 63 billion gallons of water from evaporation each year, while generating 13 gigawatts of renewable power (about half of what the state needs to meet clean energy goals). UC is now partnering with the Turlock Irrigation District on a first-in-the-nation project to test the idea.
Strengthening the economy through UC research activity
UC research activity spurs California's economy by bringing dollars and talent into the state. In 2021–22, UC's research expenditures were over $8 billion, with the vast majority coming from the federal government (9.1.1). Among all U.S. universities, the University of California accounts for nearly nine percent of direct federal research expenditures (9.1.4).
UC's research enterprise employs tens of thousands of Californians. UC campuses are also creating industrial parks and innovation spaces — like UC Davis's Aggie Square and UC Berkeley's Bakar Labs — that further support job creation, serve as incubators for startups, and attract businesses. For example, the California Air Resources Board moved its headquarters to the Inland Empire to be near UC Riverside, bringing thousands of jobs into the local community.
UC research produces five inventions every day and in 2022, the University of California was granted more U.S. utility patents than any other university in the world, ranking No. 1 in higher education for U.S. patents, as reported by the National Academy of Inventors.
Investing in the next generation of Ph.D.'s, faculty and research
The University of California serves as the state's primary academic research institution with faculty leading efforts to understand and address today's challenges, support existing and create new industries, and introduce new knowledge and research practices into the lab and classroom. As the state's leading producer of doctoral degrees, it is also training the next generation of faculty and researchers.
UC faculty are renowned as scholars and academic leaders across a wide array of disciplines. They include 70 Nobel Prize recipients and hundreds who are members of prestigious National Academies (693 National Academy of Sciences, 285 National Academy of Engineering, 268 National Academy of Medicine, and 123 National Academy of Inventors).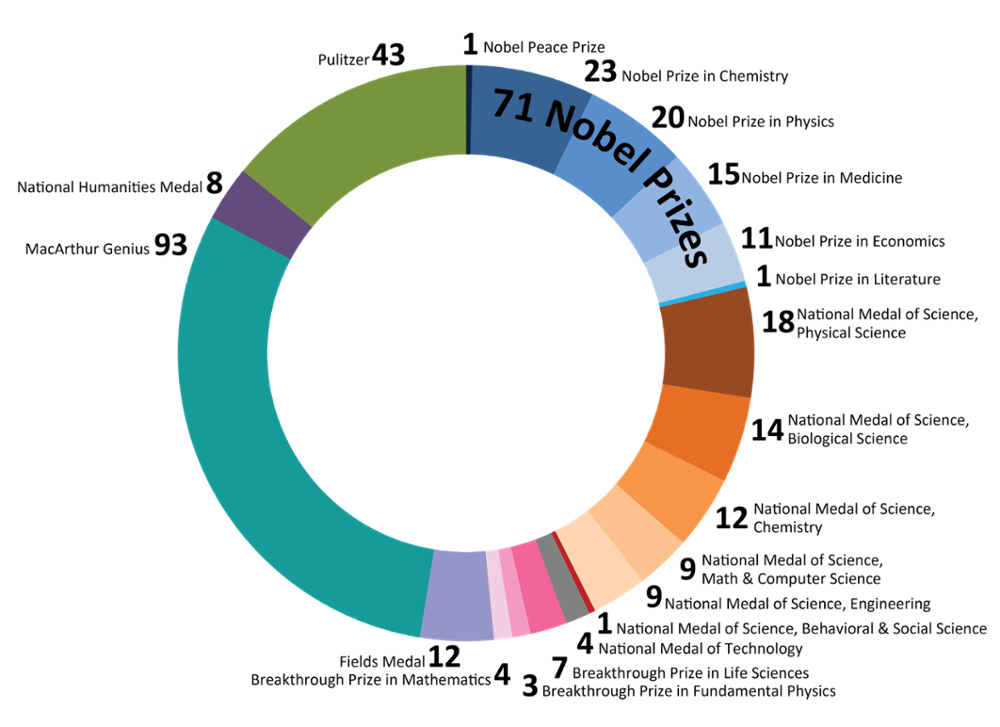 Prizes, medals, and awards won by UC faculty (13.1.2)
More than 330 UC researchers across UC's ten campuses have been named as among the most influential in their fields (i.e., authoring studies that rank in the top one percent in the number of scholarly citations worldwide)1
UC disseminates a growing body of more than 350,000 freely available scholarly materials and research theses and dissertations in eScholarship, UC's open access publishing platform. Since 2022, UC-sponsored research and journals in eScholarship have been viewed and/or downloaded over 126 million times by researchers and readers around the world.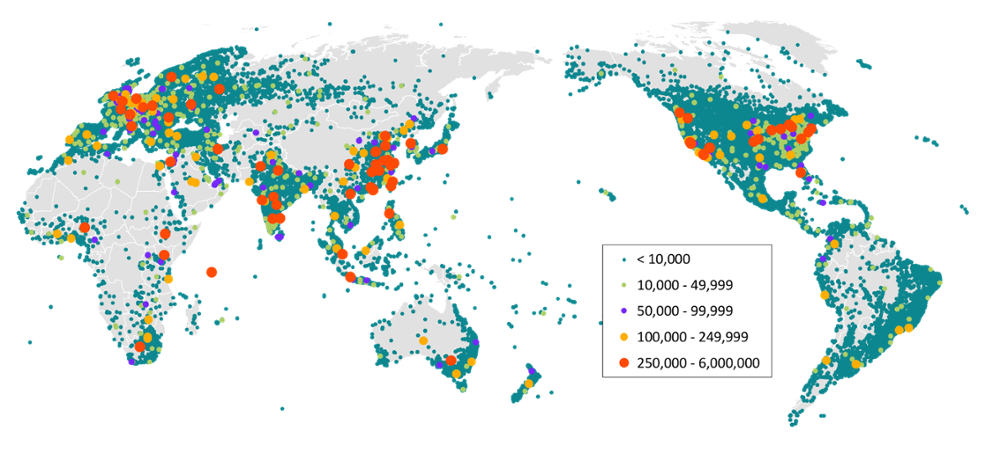 eScholarship downloads of UC scholarly materials through February 2023 (9.2.1)
In 2018, UC set a short-term goal (detailed in Appendix 1) to increase faculty and researcher diversity over the next four years to better meet the needs of the state. The University took a two-fold approach. First, it planned to increase ladder-rank faculty by 1,100, a move that would diversify the overall composition of UC faculty and better meet enrollment growth needs; and second, a longer-term goal where UC would widen the faculty pipeline by diversifying the pool of UC Ph.D.s, with a target of admitting up to 40 percent of doctoral students from more diverse undergraduate institutions by 2030.
Those goals are more than just numeric. Creating a new generation of faculty who reflect the state's diversity is critical to UC's success. For example, low-income communities and communities of color are disproportionately affected by the impacts of climate change. UC researchers with diverse backgrounds and experiences will make a difference in promoting climate change policies that reflect the needs and perspectives of California's more vulnerable populations.
Our UC 2030 goal to add 1,100 ladder-rank faculty between 2018 and 2022 will take longer to attain. Over the last four years, UC added 304 ladder-rank faculty. The pandemic significantly slowed the pace of faculty hiring and increases in faculty retirements. State funding was cut in 2020–21, and though it was restored, both the cut and the uncertainty created by the pandemic led campuses to curtail or delay faculty hiring plans. While separations have remained flat or even declined among assistant and associate professors, full professor separations, particularly retirements, accelerated during the pandemic.
 Refer to Appendix 1
UC's newer faculty continue to be more diverse, compared to all faculty. Growth is one way to further advance the progress of diversity goals. For some campuses, it is also critical in expanding research capacity and supporting a growing undergraduate and graduate student population.
UC continues to focus on diversity efforts, including the University of California becoming the nation's first university system to join the American Association for the Advancement of Science's STEMM Equity Achievement Change program. SEA Change, along with the Advancing Faculty Diversity and UC President and Chancellor Postdoctoral Scholar programs, are ways the University is focused on intentional hiring and retention efforts to ensure UC's future faculty better reflect the state's diversity.
Another way is through UC's Growing our Own Initiative, which seeks to increase the proportion of incoming Ph.D. students from UC, California State University, other Hispanic Serving Institutions (HSI), Historically Black Colleges and Universities (HBCU), and Tribal Colleges and Universities (TCU). UC hopes to see that just over 40 percent come from these more diverse institutions. UC has made steady progress through programs like the UC-HSI Doctoral Diversity Initiative and expanded efforts to provide five-year funding packages to yield admitted students. As these efforts ramp up, UC should be able to continue to increase the representations of Ph.D. students from minority-serving institutions.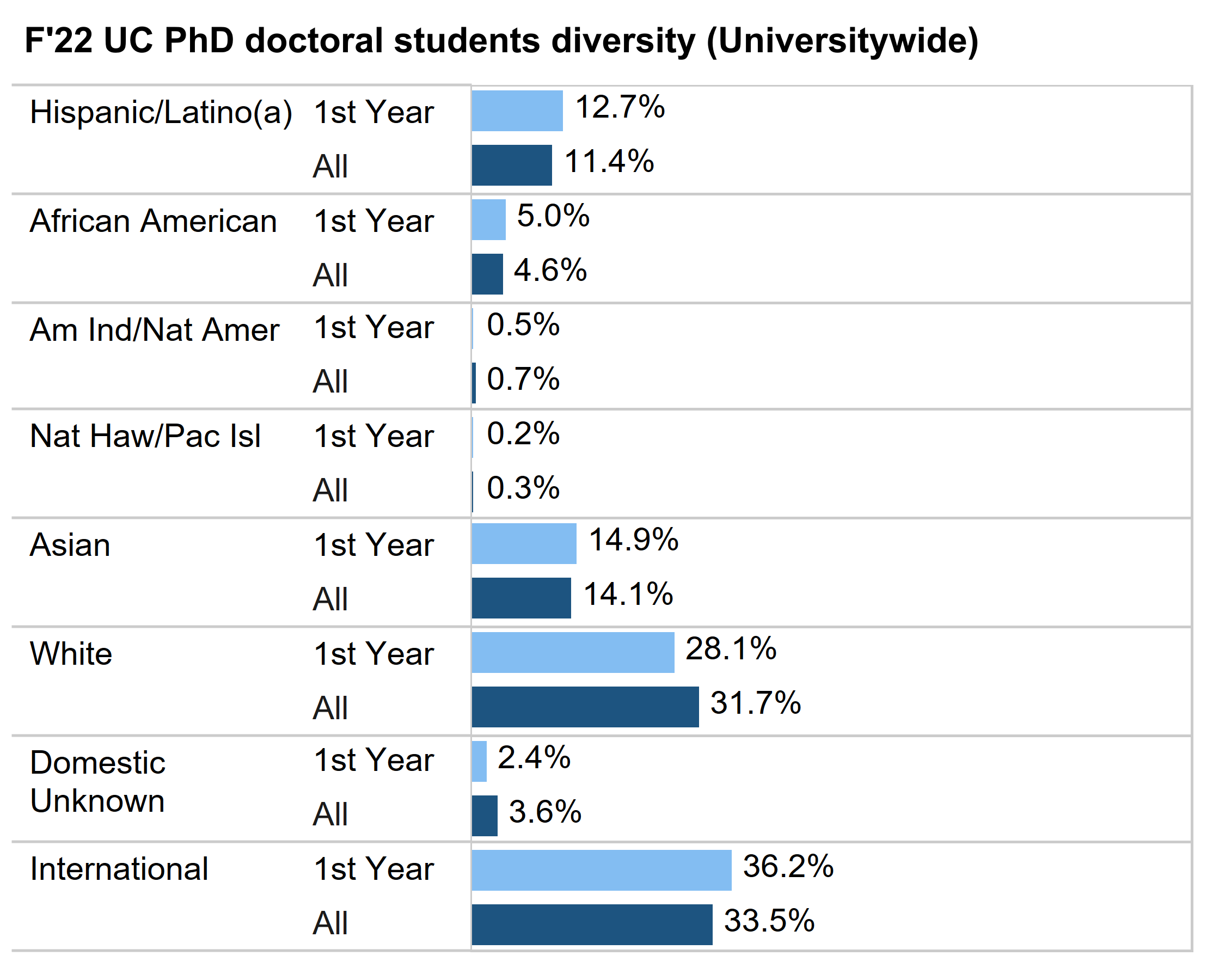 Refer to Appendix 1
Successful completion of this initiative is important to the University of California, because it will result in a home-grown availability pool of new-generation faculty that more closely represents the diversity of the state. It can also impact other higher education institutions since UC produces 60 percent of California's and almost ten percent of the nation's academic doctoral degree recipients.
California health care concerns span the lasting impacts from COVID-19 to detrimental effects of climate change and the lack of access and affordability to the state's health care system. Many rural and underserved communities in the state experience "care deserts" or have hospitals that are at risk of closing. In addition, a California Future Health Workforce Commission report2 found that by 2030, the state will face a shortfall of 4,100 health care workers, including primary care physicians. California's health care industry represents 12.6 percent of the state's GDP and 1.4 million jobs, therefore training the next generation of health care workers is both an economic imperative and a social responsibility to ensure this workforce better reflects California's diversity.
The University of California's support for the state's health care began in 1873, when the Toland Medical College became the university's first professional school. Today, the University is home to the country's largest academic health care system, comprising 20 health professional schools, six academic medical centers, ten student health centers, the systemwide Global Health Institute, and self-funded health plans.
 Locations of UC hospitals and professional schools
The UC Health enterprise includes patient care, research and clinical trials, community services in low-income and marginalized communities, and one of the nation's largest training programs for new doctors.
UC researchers developed flu and hepatitis B vaccines (UC Berkeley, UC San Francisco); new drugs to treat conditions like Alzheimer's and autism (UC Santa Barbara); new procedures, such as the production of human T-cells to fight diseases (UCLA) or blood tests — in lieu of invasive surgeries — to diagnose cancers (UC San Diego); and cancer-fighting compounds that could reduce the side effects of chemotherapy (UC Santa Barbara, UC San Francisco). UC basic science is foundational to future discoveries, including producing the first complete, gapless assembly of a human genome sequence (UC Santa Cruz) and CRISPR gene-editing technology (UC Berkeley), which could help cure genetic diseases like sickle-cell anemia or cancer.
The University has cared for Californians through its research and medical center operations and scaled up efforts to tackle diseases and address pandemics. UC San Francisco and UCLA physicians took the detection of HIV/AIDS virus from the equivalent of a death sentence to a survivable condition and now are making strides to find a cure. As similar trajectory can be seen with the treatment of breast cancer, where UC researchers identified the gene for hereditary breast cancer (UC Berkeley), developed the revolutionary drug Herceptin (UCLA), created a Smart Probe tool for more accurate breast cancer detection (LLNL), and now a safer, more comfortable imaging tool using ultrasound computed tomography (Los Alamos Lab). During the COVID-19 crisis, University of California medical centers expanded bed capacity to treat more patients, developed treatments, administered vaccines and boosters, and provided guidance on health care policies to state leadership.
UC hospitals handled nearly six million outpatient visits and more than one million inpatient visits (11.3.1). UC medical centers treat some of the most complex medical conditions — such as organ transplants or burn treatments — as shown by the 2.07 to 2.38 Case Mix Index weighted average for UC medical centers, which is higher than 96 percent of other California hospitals. In addition, UC serves as a critical safety net for many low-income Californians, with over 70 percent of UC patients covered by Medicare or Medi-Cal (11.3.2).
Training the next generation of health care providers
The University of California is the state's sole public provider of medical degrees (e.g., M.D., PharmD, Veterinary Medicine, D.D.S. and O.D.) and is therefore a vital source of the state's future doctors, dentists, pharmacists, veterinarians, optometrists, public health professionals, and nurses. The California Employment Development Department projects a 37 percent increase in these occupations (36,700 openings) by 2030.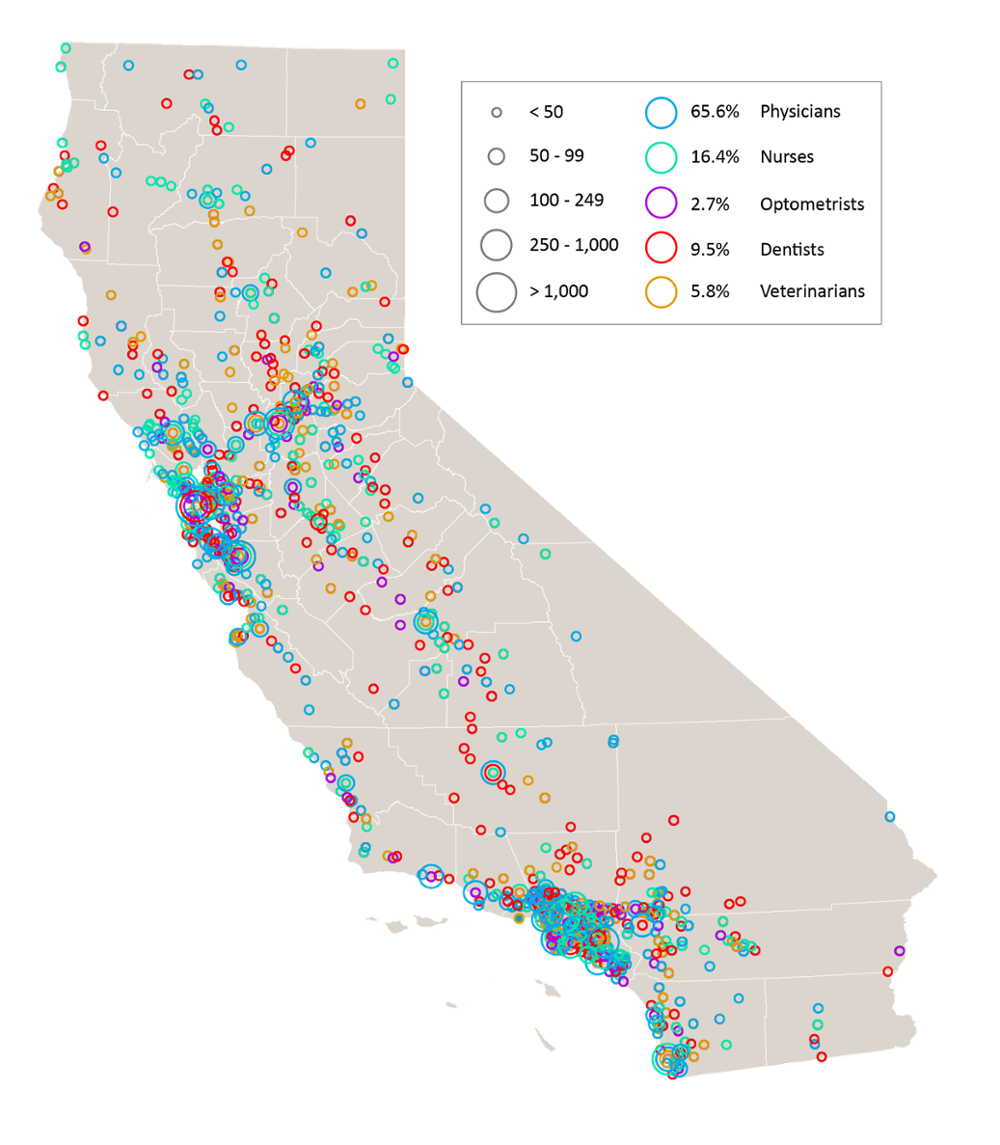 Location of UC-trained physicians, nurses, dentists, optometrists, and veterinarians (11.1.2)
As of Fall 2022, UC is training over 16,000 health care professionals (11.1.1). Based on data from the Association of American Medical Colleges, 77 percent of medical residents who completed their training in California from 2012 through 2021 are practicing in the state (11.1.2). This high rate of retention reflects the University's long-standing commitment to the admission and training of students to meet California's needs in the healthcare professions.
To address the projected shortfall in primary care physicians and widening disparities in access to care in rural and underserved communities, UC has several efforts underway to ensure the next generation of health care providers reflect and serve underrepresented communities. UC Riverside School of Medicine opened in 2013 with an inaugural class of 50 students and a mission to improve the health of the Inland Empire by producing culturally diverse primary care doctors who will stay and practice medicine in the area. In addition, UC Riverside School of Medicine welcomed its first class of California Medicine Scholars — 37 community college students from across Inland Southern California who will receive tailored academic support on their path to medical school.
UC Programs in Medical Education (or UC PRIME) also exist across the UC system to provide training opportunities focused on meeting the unique health needs of California's historically underserved populations. Each program has a dedicated area of focus, with graduates who go on to work in underserved communities and with underserved populations. The PRIME programs across UC Health Schools of Medicine include:
Rural PRIME at UC Davis, which improves access to specialty care in rural areas using UC Davis's internationally recognized telemedicine program.
PRIME-Latino Community at UC Irvine, which focuses on Latino Health issues, including increasing medical proficiency in Spanish and Latino Culture.
PRIME-Leadership Education to Advance Diversity–African, Black and Caribbean at UC Irvine, which aims to produce future physicians who are committed to addressing the health needs of African, Black, and Caribbean communities in California, the United States, and beyond.
PRIME-Leadership and Advocacy at UCLA, which trains future physicians and improves health care delivery systems in disadvantaged communities.
PRIME San Joaquin Valley through UCSF Fresno, which recruits and prepares students for future careers in medicine in the San Joaquin Valley, addressing physician shortages in the region.
PRIME-Urban Underserved through UCSF in San Francisco, which provides care for people who are homeless and other underserved populations in urban communities.
PRIME-Health Equity at UC San Diego, which aims to reduce health delivery disparities.
PRIME-Transforming Indigenous Doctor Education at UC San Diego, which prepares medical students for careers focused on providing healthcare to Native populations.
To further meet the health care needs of the Central Valley, UCSF Fresno, UC San Francisco, and UC Merced are creating an educational pathway for high school students in the San Joaquin Valley to complete a medical degree. The San Joaquin Valley Prime+ BS/MD pathway allows students to receive an undergraduate degree at UC Merced, complete 1.5 years of pre-clinical training at the UCSF School of Medicine Regional Pre-Clerkship Campus planned for UC Merced, and then complete the remaining 2.5 years of clinical training at the UCSF School of Medicine Regional Clinical Campus at UCSF Fresno and receive an M.D. degree from UCSF School of Medicine.
In the 2022–23 academic year, 396 medical students (almost 13 percent of all UC medical students) were enrolled in UC PRIME programs. Current plans are to grow this population to almost 500 students.
UC education expanding opportunities and degree attainment 
Educational opportunities vary across the state and the largest proportion of high school students — low-income, first-generation, and underrepresented (African American, American Indian, Chicano/Latino(a), and Pacific Islander) — are less likely to get a college degree. Data clearly demonstrate that a college degree protects graduates against unemployment and promotes higher earnings. Expanding educational opportunities and improving outcomes is critical to address income inequality and tap the talent of California students who would otherwise be left behind. Gov. Gavin Newsom established a statewide college goal of achieving 70 percent degree and certificate attainment among working-age Californians by 2030.
To help meet this goal, University leaders developed the UC 2030 Capacity Plan3 which would add over 23,000 state-supported students (over 17,000 California resident undergraduates and 6,000 graduate students) by the end of this decade. That growth is equivalent to adding another UC campus, without the physical building and cost needed to build a new institution. The focus is instead to leverage traditional and non-traditional means to expand capacity across the existing ten UC campuses.
Current projections are that the University is on track to add over 23,000 state-supported students by 2030, particularly undergraduate students.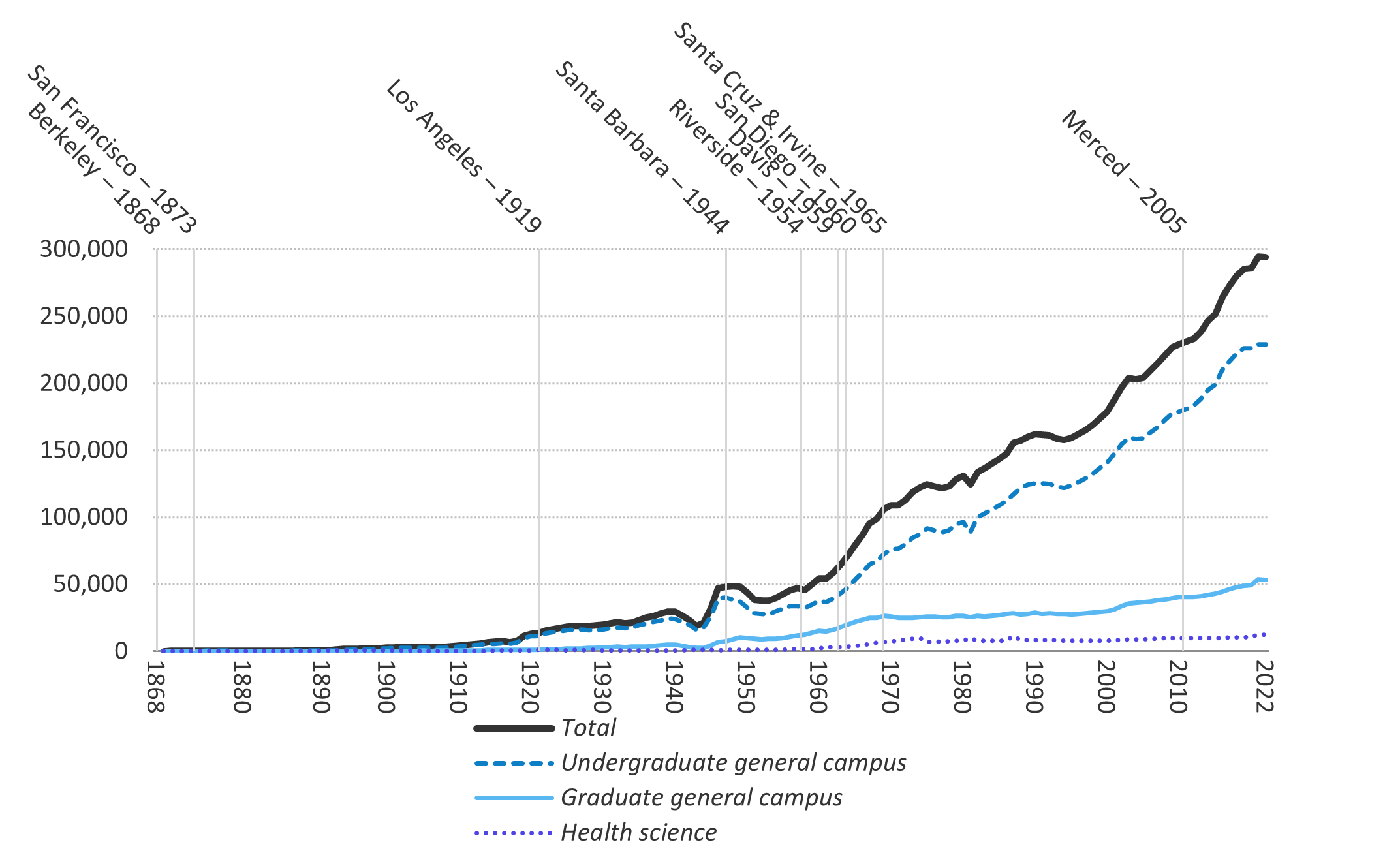 Undergraduate and graduate enrollment, with campus opening date
Becoming a minority-serving institution
California is one of the few states in the nation where minority groups make up most of the population. Indeed, low-income, first-generation, and underrepresented students constitute the majority of California high school students. Yet, at each step in the undergraduate pipeline, the University becomes less reflective of the state's population.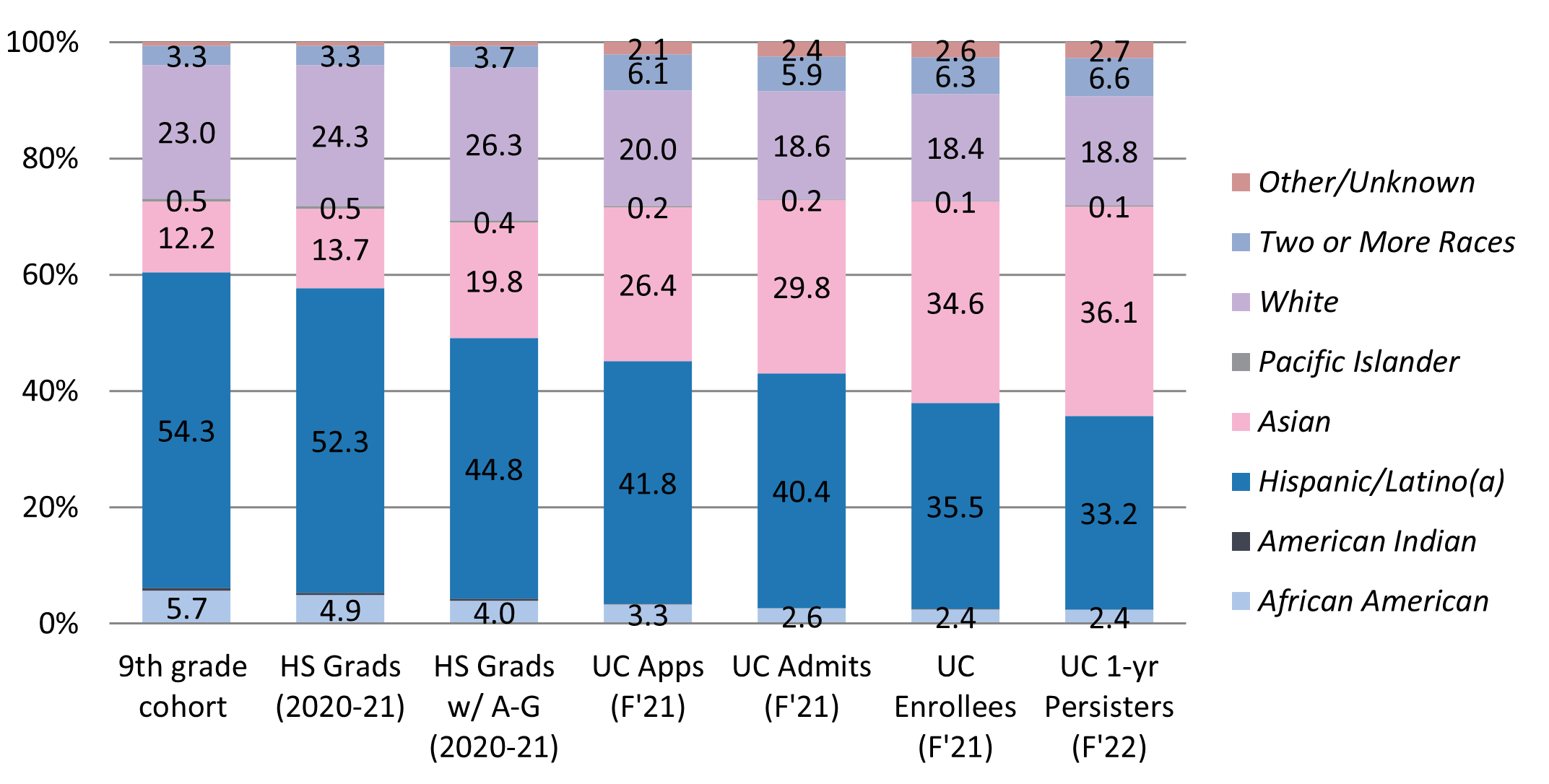 Fall 2021 racial/ethnic distribution of UC undergraduate pipeline (7.1.1)
Increasing access and affordability
UC starts by demonstrating to high school and community college students that a four-year degree is a pragmatic and affordable possibility. The University of California's Student Academic Preparation and Educational Partnerships (SAPEP) programs, which help prepare California students for higher education (10.2.1), have been vital in this regard. SAPEP programs served nearly 108,000 K–12 students at more than 2,000 public schools, and over 20,000 community college students at 112 community colleges in 2020–21, the most recent year available. As part of the Achieve UC program, the University is also targeting high schools with low college-going rates to inspire more students to see themselves as college material. Furthermore, and in response to recent declines in California Community College (CCC) enrollment, UC is directing additional state support for SAPEP to go to transfer-prep programs in 69 low-sending CCCs where there are opportunities to increase applicants.
Despite the fact that 55 percent of California undergraduates see all their tuition covered by federal, state, and UC-funded financial aid, and 70 percent of students receive grants and scholarships, many potential students still believe UC is not affordable, especially when they think of costs beyond tuition. Over the last decade, UC has strived to keep the net costs of attendance (i.e., total costs of attendance minus financial aid) stable for California residents and declining for lower income students.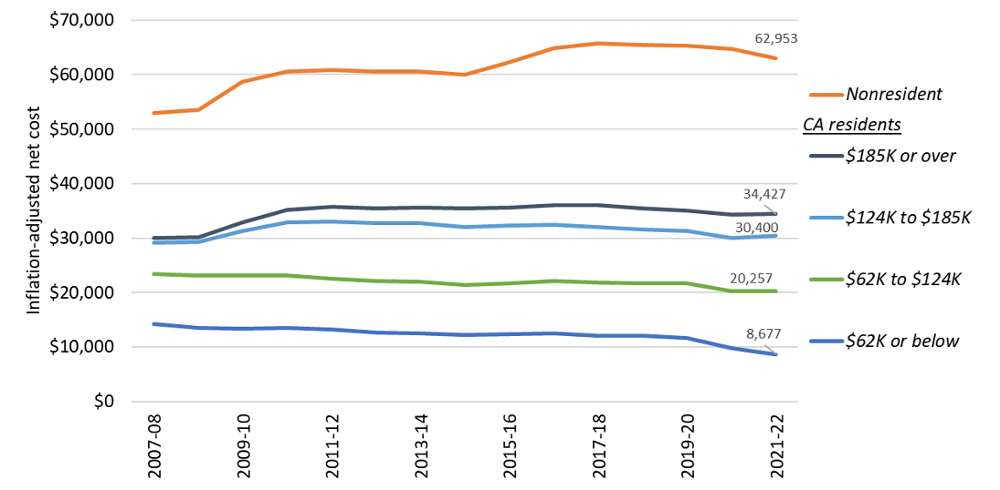 Net cost of attendance by family income and California residency, 2007–08 to 2021–22 (2.1.2)
UC's tuition stability plan helps families better manage costs by holding tuition rates flat over the course of a student's education, up to six years. As part of the Compact with the Governor, the University is also working with campuses to lower non-tuition costs (e.g., housing, books, transportation, food) and further reduce the overall cost of education. The state's Middle Class Scholarship program (providing support for families with income over $201,000) is a major contribution to this effort. UC is also staunchly advocating for Pell Grant support for low-income students to be doubled to $13,000, further advancing UC's affordability efforts.
Today, 60 percent of UC undergraduates graduate with no debt. For those who do borrow, the amount of debt has declined over time (now under $18,000). But this is not good enough. Indeed, the leadership of the University has set its sights on ensuring that by 2030, every UC undergraduate will have a path to a debt-free education. Under the plan, California students could meet all of their college expenses, including housing, food, and living expenses, through a combination of non-loan financial aid and working 15 hours a week or less — commitments that do not have an impact on academic outcomes like GPA or time to graduation.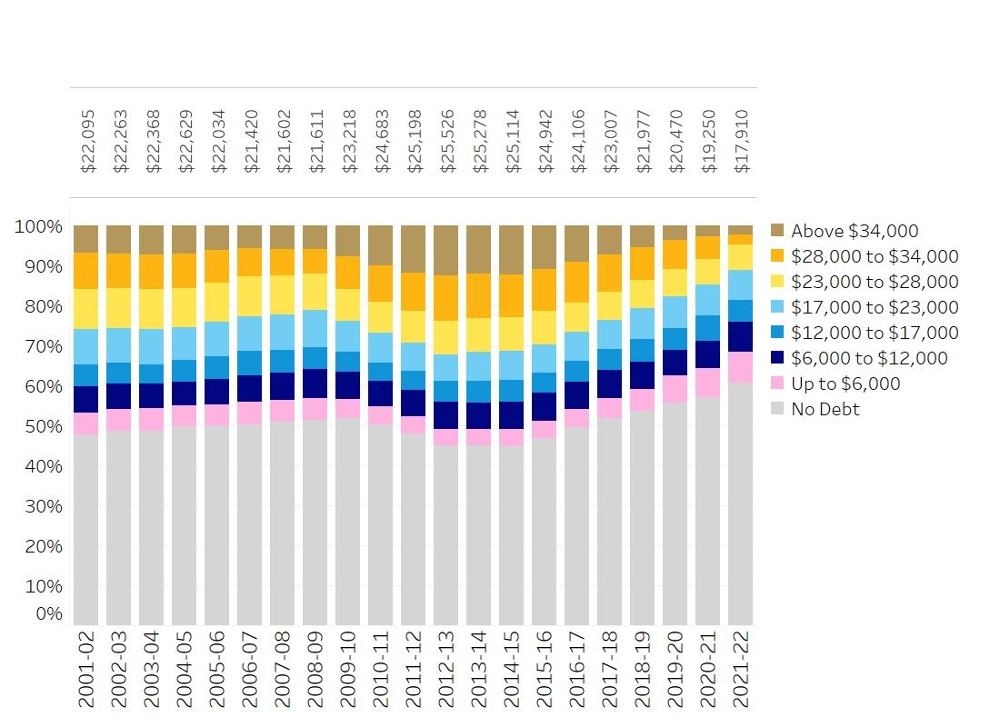 Student loan debt burden of graduating seniors, 2001–02 to 2021–22 (average debt of those who borrowed above each year) (2.3.2)
Improving timely graduation and closing equity gaps
Another way UC seeks to improve affordability is to increase the percentage of freshmen who graduate in four years, and transfers who graduate in two, thereby decreasing the total costs spent on obtaining an undergraduate degree. Students who graduate in a timely manner have higher lifelong earnings and an increased likelihood of going onto graduate school. UC estimated that new-generation students — that is Pell, first-generation, and underrepresented — who graduate in six years took on an additional $7,500 in loan debt compared to students who graduated in four years, along with cumulative earnings that were $215,000 lower over a 16-year period. That is why the UC 2030 goals include closing equity gaps so that Pell Grant, first-generation, and underrepresented students can experience these benefits. In doing so, UC could further efforts to diversify professions that require graduate degrees, like doctors and nurses, judges and lawyers, and researchers and faculty.
By 2030, the University's systemwide goal is to increase four-year freshman graduation rates by eight points, from 68 percent to 76 percent and two-year transfer graduation rates by 13 points, from 57 percent to 70 percent. It also aims to close gaps, such that Pell, first-generation, and underrepresented students graduate at the same rates as their peers. The Compact with the Governor sets an intermediate goal of reaching half of this proposed increase in timely graduation and reduce current gaps by 50 percent by the end of 2025–26. Achieving those standards was made far more difficult by the pandemic.   
Overall, UC has made steady progress in improving four-year graduation rates and closing equity gaps, but progress has slowed, and gaps increased with the fall 2018 cohort for freshman entrants and fall 2020 cohort for transfer entrants. These students spent most of their college career during the pandemic period, facing increased challenges at home and with the transition to and from remote instruction.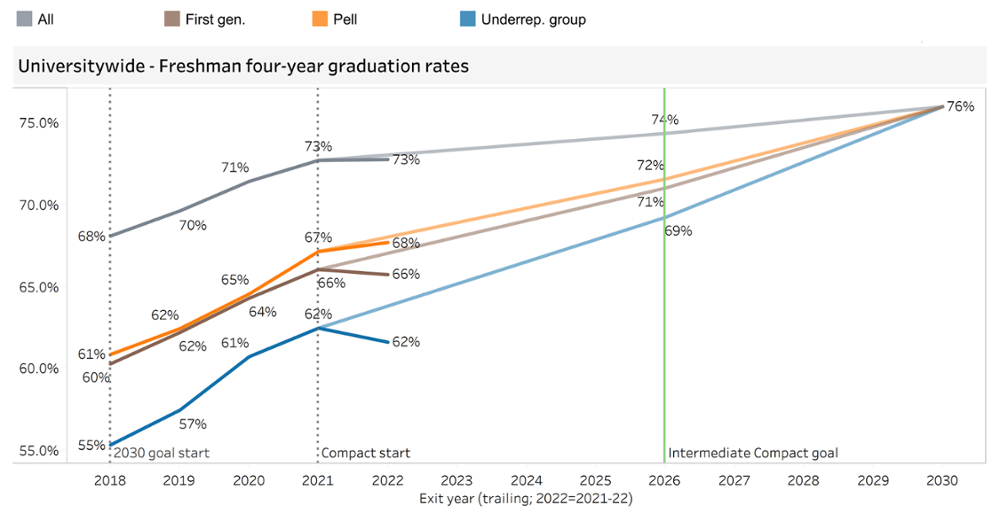 UC 2030 dashboard on progress to timely graduation rates
The pandemic also appears to have been a major factor in a sharp reduction in two-year graduation rates for transfer students in 2022, following years of progress.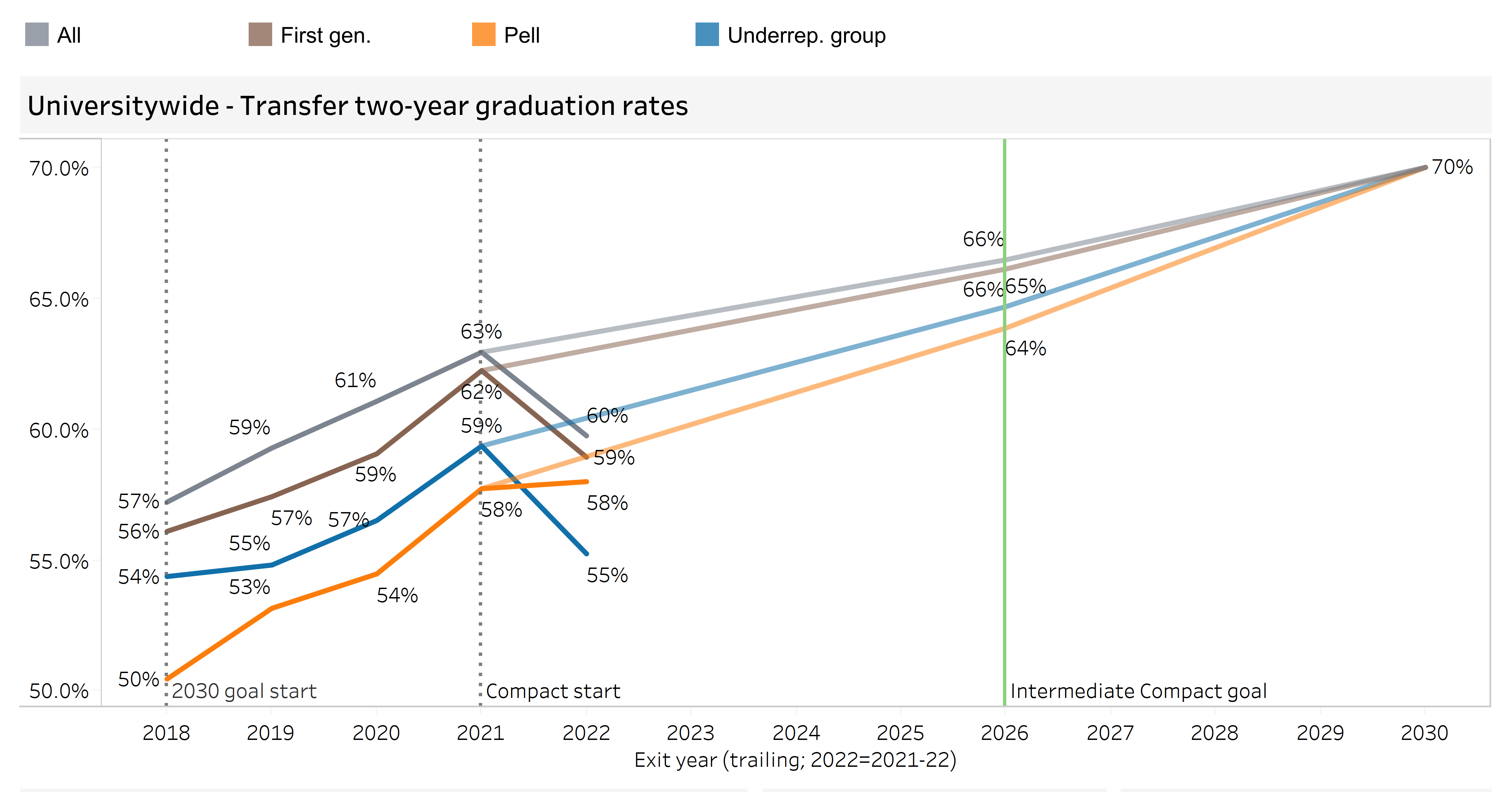 UC 2030 dashboard on progress to timely graduation rates
As seen in the following graphic, UC saw a decline in retention rates among transfer students, coinciding with the pandemic, and mirroring the trend in lower two-year graduation rates. While there has since been a rebound in transfer retention rates, freshman retention rates have slipped and the gaps increased, so UC may see fewer freshmen in the coming years completing their studies in four years.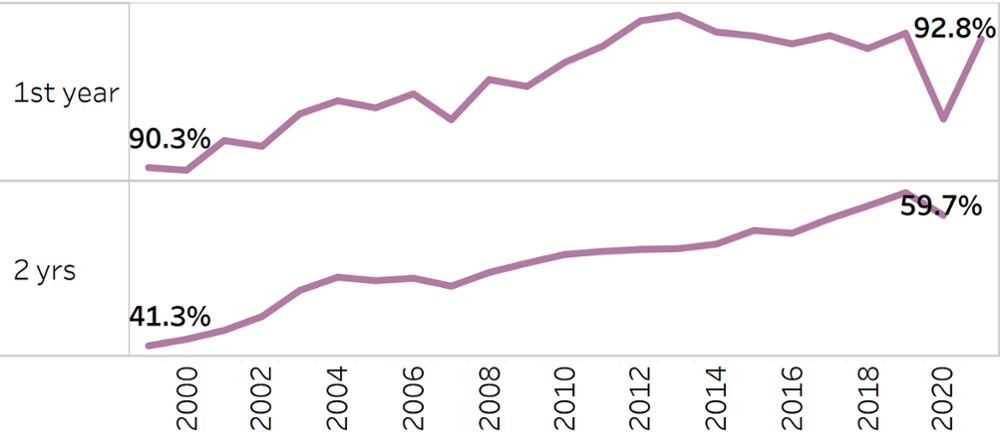 First-year retention and two-year graduation rates for transfers

First-year retention rates for overall and for Pell, first-generation, and URG students (3.2.3)
UC campuses are actively engaged in efforts to retain students and support graduation rates, but several of the UC 2030 goals set before the pandemic will now be more challenging to achieve. Then as now, connecting incoming students to academic preparation services will be key to boosting retention rates and improving time to degree. In fact, academic preparation explains more of the difference in freshman graduation rates than race/ethnicity, Pell recipient status, or first-generation status alone. The within-group gaps for graduation rates between the lowest GPA category ("bottom third") and highest GPA category ("top third") are much wider than the gaps between groups when comparing the same GPA categories.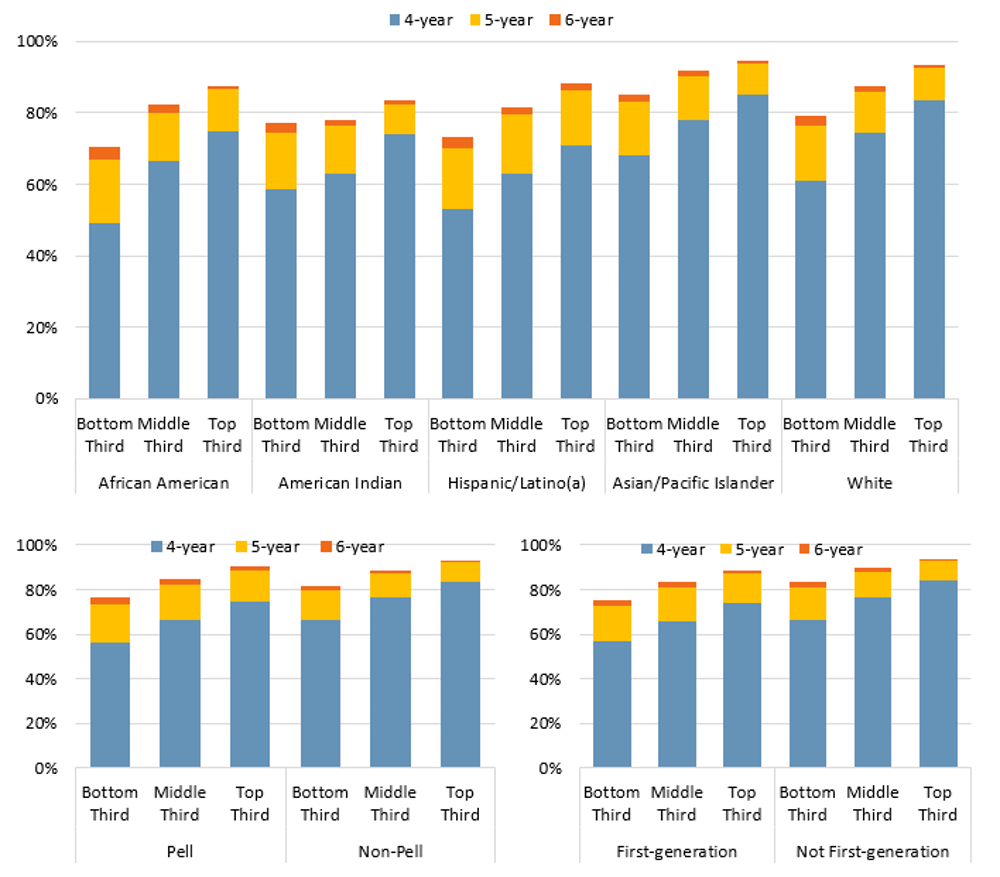 Freshman four-year graduation rate by high school GPA (top, middle, and bottom thirds) and race/ethnicity,
Pell Grant recipient status, and first-generation status (3.1.10)
As is true across the nation, the latest test scores show California students performed worse in 2022 on the Smarter Balanced assessment, dropping four percentage points to 47 percent who meet the English language arts standard (i.e., demonstrating mastery of the knowledge and skills needed to likely succeed in future subject-area courses). Test scores for math courses also dropped 6.5 points to just one-third of students who perform at similar standard level.
Campuses are doubling down on pandemic-related learning loss by ramping up programs that support the transition from high school and community college to UC. These programs include summer bridge or transfer edge programs that provide an early start on critical courses, teach study skills, and orient students to campus support services. Some campuses are expanding living-learning communities and other programs to create a greater sense of belonging, which is closely tied to positive student outcomes, and scaling up holistic advising support to address academic and mental health needs.
Many UC campuses are prioritizing efforts to revise the curriculum, noting that successful courses are a critical way to close equity gaps and improve student outcomes. Some UC campuses are using federal support that came with their HSI designation to create curricular dashboards that identify courses with greater academic achievement gaps or larger proportions of failing grades to prioritize for redesign. Instructors are receiving better insight into the needs of students in their courses and the types of services and support necessary to help them advance in critical gateway courses. Other campuses are providing curricular support including "co-courses" that provide additional problem sets or tutoring to reduce the number of students who perform poorly and may need to retake courses.
Producing 200,000 more undergraduate and graduate degrees by 2030
UC is committed to ensuring that students who enroll at the University will leave with a degree. In advance of that goal, and the State's effort to achieve a 70 percent degree attainment rate, the University of California has set a goal of adding 200,000 more degree-holders over the one million currently projected — or 1.2 million undergraduate and graduate degrees by 2030.
UC continues to make progress to ensure that nine out of ten undergraduates earn a degree, a rate that will close in on six-year graduation rates for American Association of Universities (AAU) private peers at 93 percent and well surpass AAU public peers at 81 percent (3.1.1). UC's freshman six-year graduation rate is 86 percent (3.1.2), with smaller gaps for new-generation students (i.e., 83 percent Pell, 81 percent first-generation, and 79 percent underrepresented). The transfer four-year graduation rate is 89 percent (3.1.3), with comparable rates for new-generation students (i.e., 88 percent for Pell and first-generation and 86 percent for underrepresented students). These rates increase a point or two beyond six and four years, respectively. For example, the 4+ transfer graduation rate is just over 90 percent.
UC is on track to meet this goal overall for undergraduate and graduate degrees awarded. Based on current projected growth in undergraduate and graduate enrollment and trends in undergraduate graduation rates, UC has added almost 545,500 undergraduate and graduate degrees or just over 45 percent of the 1.2 million total.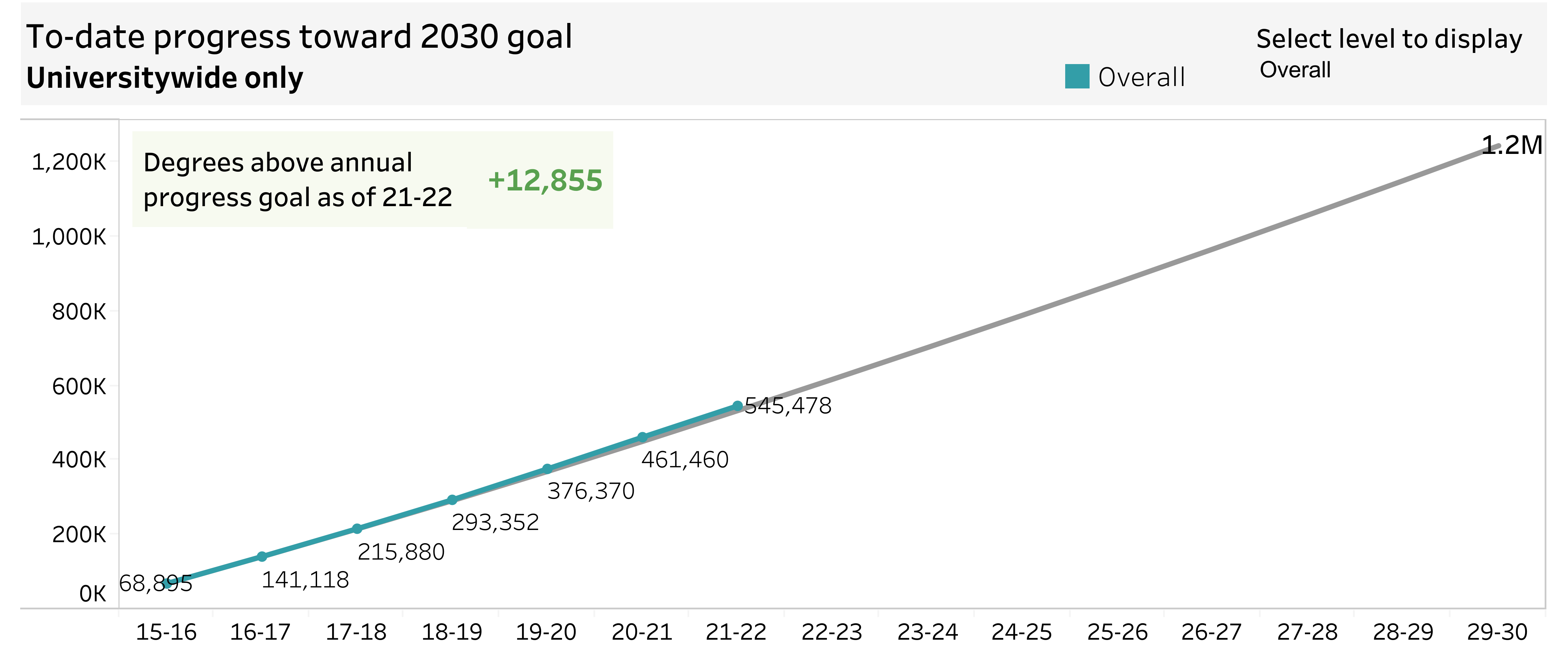 UC 2030 goal on progress to degree completion (UC 2030 dashboard)
To further degree attainment efforts, the University leveraged one-time funds from the state to launch a systemwide bachelor's degree completion program. UC Merced was the first campus to create a degree completion program targeting UC stop outs (i.e., students who started but did not complete a degree).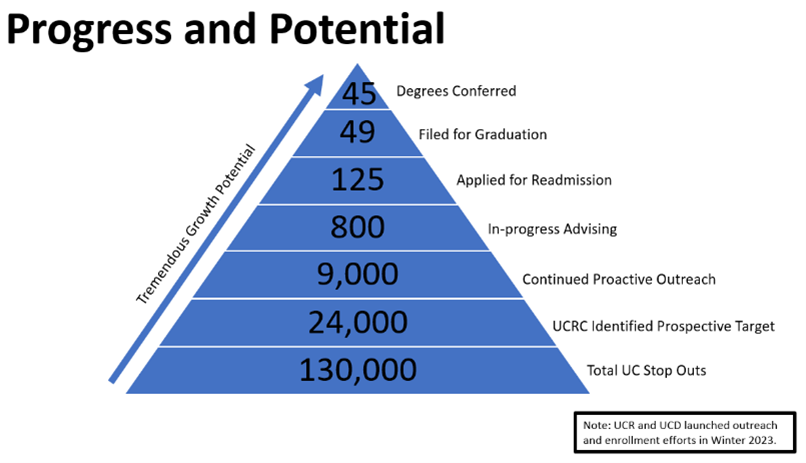 Current progress and potential for outreach to UC stop outs
UC Davis, UC Riverside, and UC Santa Barbara have joined with UC Merced to support this work. Collectively, these four UC Extension programs have created the UC Reengagement Consortium and are expanding outreach to former UC students across the state and offering multiple pathways for these students to obtain their degree. Thousands of students have been approached, and the consortium has provided personal advising to hundreds. Over the last year, this work has resulted in almost 100 degrees conferred and filed for graduation.
In support of its transparency efforts, the University of California produces the UC Accountability Report and the UC Information Center, both of which provide detail on University operations, including progress to strategic goals, areas of strength, and opportunities for improvement. 
Appendix 1 provides a screenshot of the UC 2030 dashboard, which tracks progress for the UC system and campuses on these important goals. Appendix 2 provides a full list of indicators included within the Accountability Report, spanning all UC operations and providing additional context. The Accountability Report can be downloaded to support other use or analyses.
---
APPENDIX 1 | UC 2030 DASHBOARD
The UC 2030 dashboard highlights key goals and detail on progress to achieve UC 2030 goals.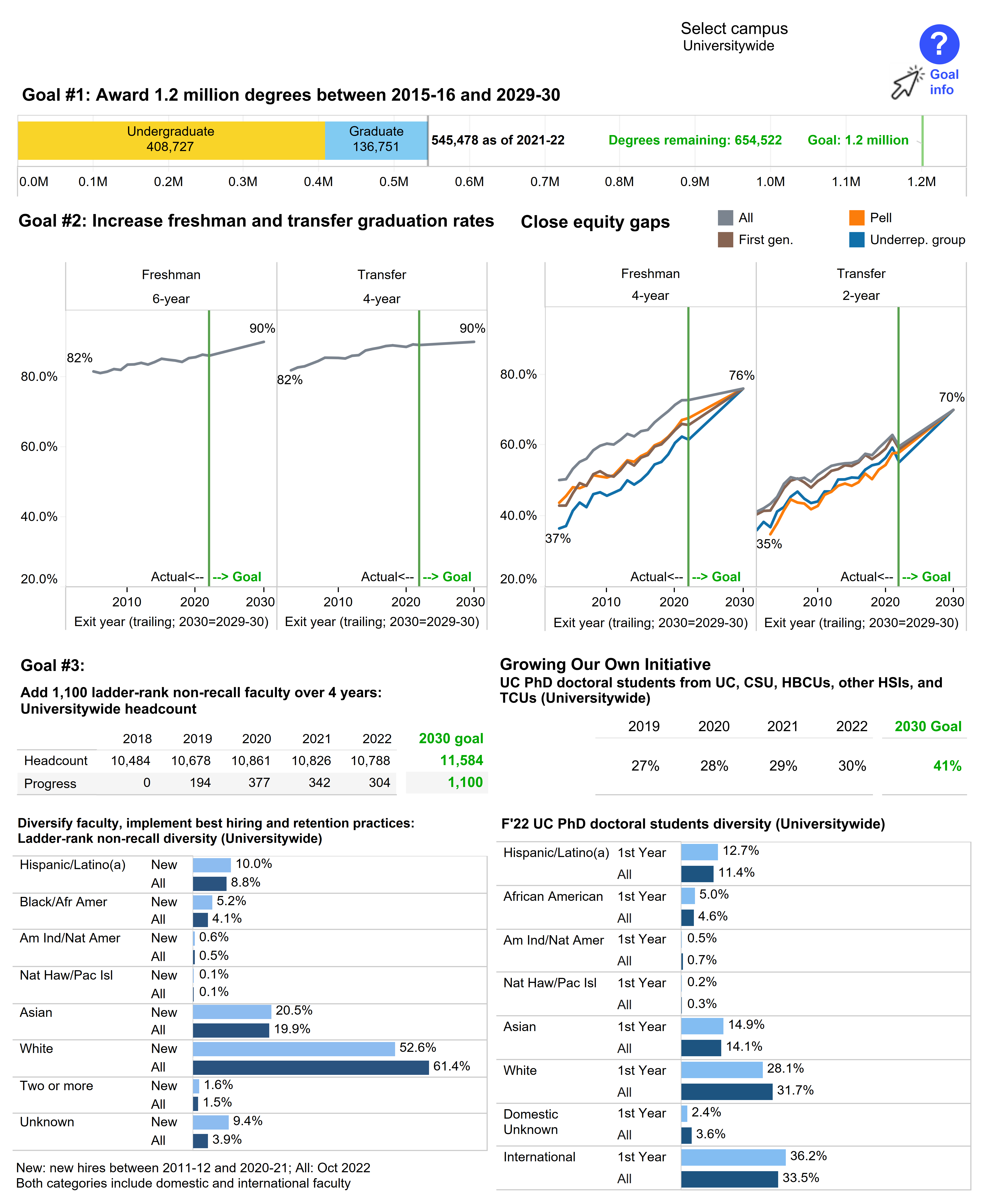 ---
Links to the Table of Contents where indicator titles are linked to the indicators.
---
[1] 2022 Highly Cited Researchers, Clarivate
[2] California Future Health Workforce Commission final report
[3] University of California 2030 Capacity Plan
---