10.1 COMMUNITY SERVICE PROGRAMS
UC's Division of Agriculture and Natural Resources brings the power of UC research and education to local communities across California.
10.1.1 UC agriculture, environment and natural resources programs, and UC natural reserve sites, Spring 2017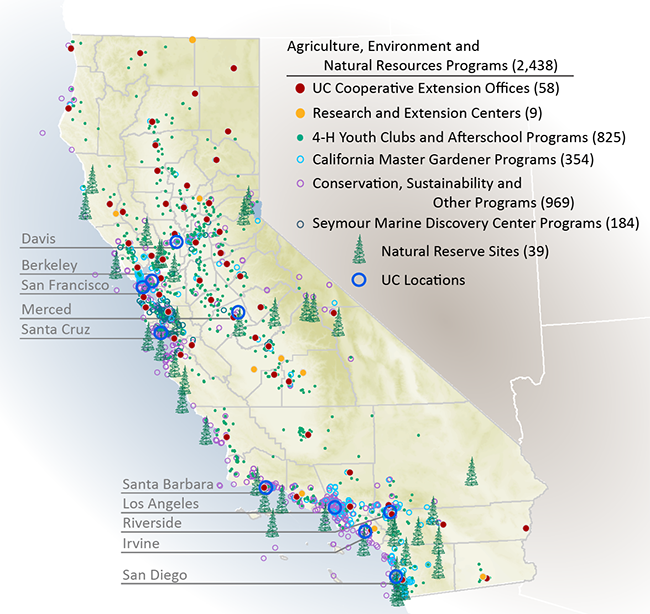 Source: UC Campuses
UC's Division of Agriculture and Natural Resources (ANR), as the state's land-grant arm, brings the power of UC research to all 58 California counties to help solve local agricultural and natural resource issues. In 2016, ANR included 115 Cooperative Extension Specialists and about 600 affiliated Agricultural Experiment Station researchers located in 40 departments on the Berkeley, Davis, Riverside and, more recently, Merced campuses. One hundred and sixty five Cooperative Extension Advisors conducted research, outreach and education from locally based Cooperative Extension (CE) offices. Nine statewide Research and Extension Centers (RECs) offer researchers places to conduct field experiments and educational opportunities for the public.
The statewide network of local CE sites and RECs is often the face of UC to Californians with no other connection to the University. In 2016, locally based CE programs had contact with around one million adults and youth to provide science-based outreach. CE disseminated agriculture and natural resources research results through close to 1,000 community-based classes, workshops, demonstrations and field days. Through participation in CE programs, growers adopt best practices resulting in increased yield, reduced inputs, increased efficiency, increased economic return and conservation of natural resources.
In addition, ANR operates eight statewide programs and two institutes with multidisciplinary approaches to complex issues. During 2016, ANR's California Naturalist Program trained and certified naturalists who contributed close to 35,000 hours of public service conducting scientific research, environmental monitoring, restoration and conservation. The statewide UC Master Gardener Program, managed by ANR, extends research-based information about home horticulture and pest management to the public in more than 50 counties. Over 6,200 active UC Master Gardener volunteers donated over 418,000 hours — the equivalent of 200 full-time employees, which would have cost $11.5 million if the time had not been donated. Finally, UC operates the statewide 4-H Youth Development Program, managed by ANR, which uses a positive youth development framework and experiential, inquiry-based science learning. Approximately, 200,000 youth ages 5 through 19 participated in the UC 4-H program during 2016. Youth who participate in 4-H programs have been shown to be 25 percent more likely to contribute to their communities and to see themselves going to college.
As a major component of UC's environmental stewardship role, the UC Natural Reserve System (NRS) manages a network of protected natural areas throughout California. Its 39 sites include more than 756,000 acres, making it the largest university-administered reserve system in the world.