UC resident tuition and fees and total costs have remained relatively flat over the last several years, and while they still exceed the national average for AAU public institutions, they remain below the average for AAU private institutions.
2.1.1 Total cost of attendance for undergraduate in-state residents, Universitywide and comparison institutions, 2004–05 to 2015–16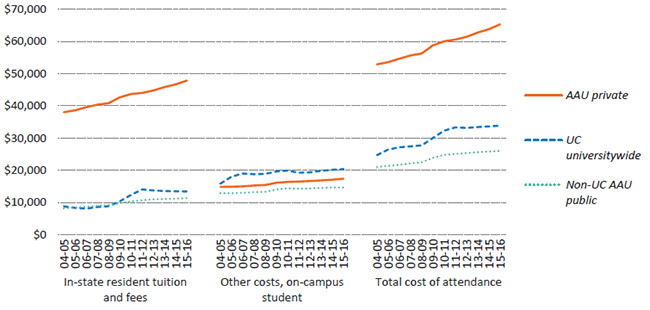 Source: IPEDS1
The total cost of attending college includes tuition and fees as well as living expenses, books and supplies, transportation, health insurance and personal expenses. The total cost of attendance is higher at UC than at AAU public comparison institutions partly because of the relatively high cost of living in California.
After several years of increases, UC tuition and fees and the total cost of attendance have remained relatively flat in the past few years.
1 Charges are for in‐state students living on campus. Averages are simple averages. Weighted averages for UC can be found here. A list of the 28 non‐UC AAU public and 26 AAU private institutions in the comparison groups can be found in the data glossary.