More than half of ladder-rank and equivalent faculty are in STEM (science, technology, engineering and mathematics) and health sciences disciplines.
5.1.1      Faculty by discipline, headcount, Universitywide, Fall 2007 and 2016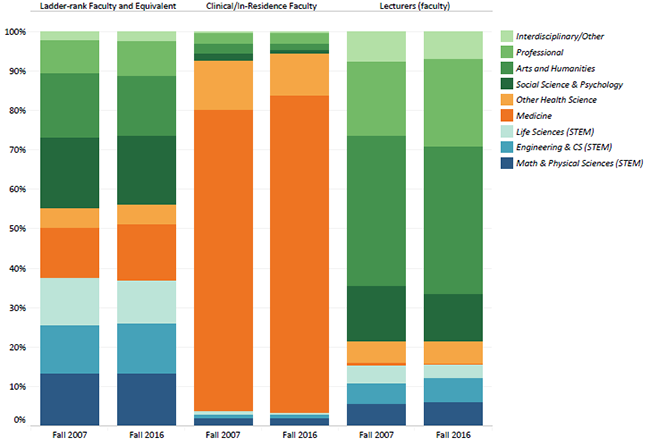 Source: UC Corporate Personnel System1
The proportion of ladder-rank faculty across disciplines has remained similar over the last ten years, with the greatest increase in medicine and health sciences disciplines (17.8% to 19.3%) and the greatest decrease in the arts and humanities (16.6% to 15.2%). In the clinical/in-residence faculty group, medicine and health sciences, which make up the largest proportion by far, increased by 2 percentage points proportionally.
Headcount in clinical/in-residence and lecturer groups has grown by around 2,700 (about a 30 percent increase) since 2007 — a much greater increase than in the headcount of ladder-rank and equivalent faculty (about 1,200 or 12 percent).
1 Data shown are headcount numbers for all faculty. Ladder-rank and equivalent faculty are appointees who are tenured or who are eligible for tenure or security of employment. Clinical/in-residence faculty include clinical faculty and professors in residence who are integral to UC's health sciences clinical and research activities.