9.1 RESEARCH EXPENDITURES
Federal funds support most of the research work done at UC.
9.1.1 Direct research expenditures by source, Universitywide, $ billions, 1997–98 to 2015–16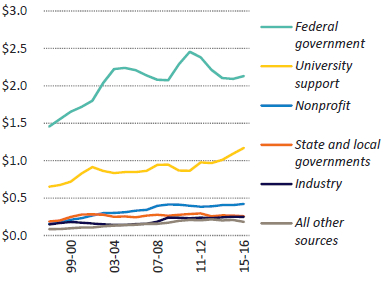 Source: UC Corporate Financial System1
UC's direct research expenditures during 2015–16 amounted to about $4.4 billion. Of this total, 48 percent came directly from federal agencies. This is the same percentage as last year, which is lower than any time in the previous 15 years. A further seven percent represents federal flow-through funds that came to UC as sub-awards from the state, corporations, nonprofit organizations or other universities. Together, about 55 percent of UC's research expenditures started as federal funds. About three-quarters of UC's federal research funds were provided by just two agencies: the National Institutes of Health and the National Science Foundation.
Fluctuations in federal appropriations have a major impact on UC's research. Cutbacks at federal agencies starting in 2006 ended a long period of growth. This downturn was temporarily reversed during 2009–10 by the American Recovery and Reinvestment Act, which provided over $1 billion in research funds to UC. Federal appropriations have been relatively stable for the last two years, but this may change with the current administration.
University support, accounting for almost 27 percent of all 2015–16 research expenditures, derives from a variety of sources. These funds include UC general funds, state government specific appropriations, endowment income and gifts.
 1 Amounts have been adjusted for inflation and do not include accrual funds for postemployment retirement benefits or indirect cost recovery funds.