1.1 APPLICANTS, ADMITS AND ENROLLEES
Demand for UC continues to grow.
1.1.1 Freshman applicants, admits and enrollees, Universitywide, Fall 1994 to 2017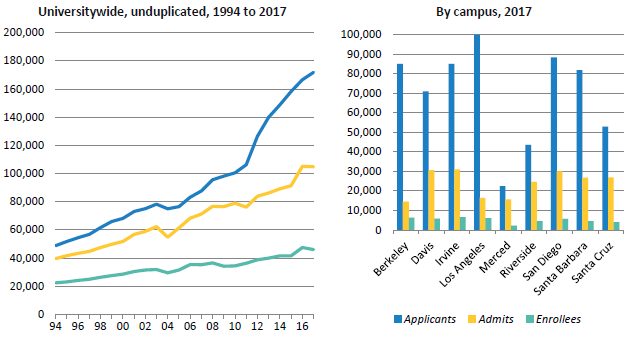 Source: UC Data Warehouse1
The rapid growth in freshman applicants to UC over the past two decades demonstrates the increased demand for college education, the growth of California's population and UC's continued popularity. UC maintains its obligations under the Master Plan by guaranteeing admission to all qualified students.
From 2011 to 2017, unduplicated freshman applicants grew 62 percent (or about eight percent per year) from about 106,000 to about 172,000, compared to a 42 percent increase in the seven-year period between 2004 and 2011 (or about five percent per year) from about 75,000 to 106,000. The 62 percent growth represents about 66,000 applicants, including about 27,000 California residents.
Qualified applicants who are not offered admission at the campus(es) to which they applied to are offered admission to another campus by a referral process. A change in accounting for referral students is responsible for the apparent drop in 2011 admits. Beginning that year, UC Merced admitted only students who indicated interest in a referral offer, rather than every student who qualified for an offer.
Most campuses admit less than half of applicants. Many applicants apply to more than one UC campus. In fall 2017, each UC applicant applied to an average of 3.7 campuses. Freshman applicants increased on all campuses in fall 2017. For data tables on UC freshman applicants, admits and enrollees by campus over time see: universityofcalifornia.edu/infocenter/admissions-residency-and-ethnicity.