As of October 2022, UC had 21,672 FTE faculty, consisting of 50% ladder-rank and equivalent, 39% clinical/in-residence/adjunct, and 11% lecturers.
5.1.1 Faculty FTE total by type

UC employees, full-time equivalent (FTE) dashboard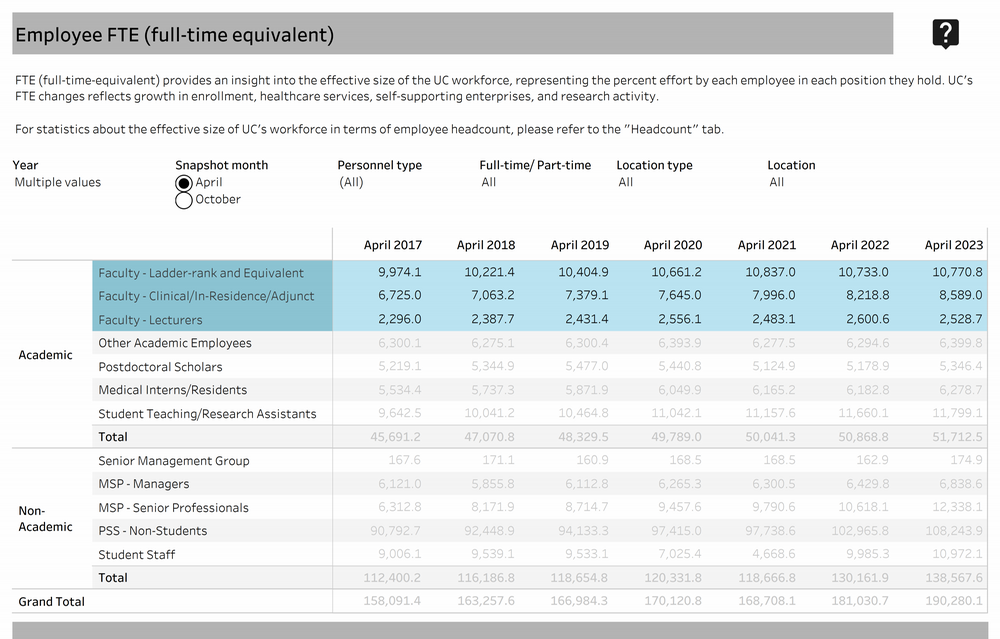 General campus faculty serve in non-health sciences disciplines (such as arts, humanities, social sciences, biological and physical sciences, engineering, law, business, education, etc.) where the majority of UC student degrees are earned.
Total general campus faculty FTE has increased by 24 percent (2,291 FTE) in the past decade. Ladder-rank faculty FTE has grown by 1,450, or 18 percent, making up about 76 percent of all faculty FTE.
While FTE in all faculty categories has grown, the most pronounced increase has been among lecturers, who increased by over 46 percent during this period. At UC, lecturers are not required to engage in research or service responsibilities and therefore focus on teaching. Lecturers help meet the instructional needs of UC's growing enrollment.