UC faculty have increased to accommodate a growing student body, relying more on term faculty today than in years past.
5.1.1      General Campus faculty FTE total by type, Universitywide, October 2000 to 2017>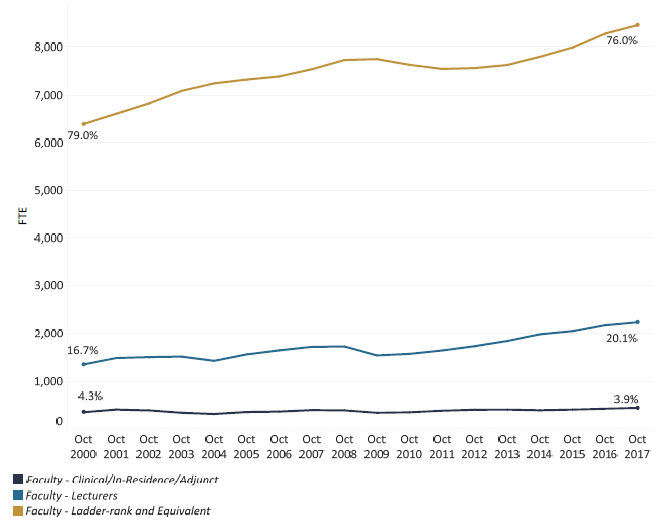 Source: UC Corporate Personnel System

Since 2000, faculty has increased by over 3,000 FTE, or over 37 percent. While all faculty types have grown, the most pronounced increase has been among lecturers, who grew over 65 percent during this period. Lecturers made up more than 20 percent of general campus faculty FTE in October 2017, a slight increase from 17 percent in 2000.
Ladder-rank faculty have grown at a more modest 32 percent, but they still make up 76 percent of faculty FTE. FTE in the Clinical/In-Residence/Adjunct faculty series are typically associated with health sciences, so they only represent a small portion (4 percent) of overall general campus faculty.
Reliance on lecturers has become more common in higher education in recent years. At UC, lecturers do not have research responsibilities and therefore focus on teaching. These faculty help meet the instructional needs of UC's growing enrollment.