Over time, UC's varied sources of revenue have grown at different rates.
12.1.1 Revenues by source, Universitywide, 2000–01 to 2020-21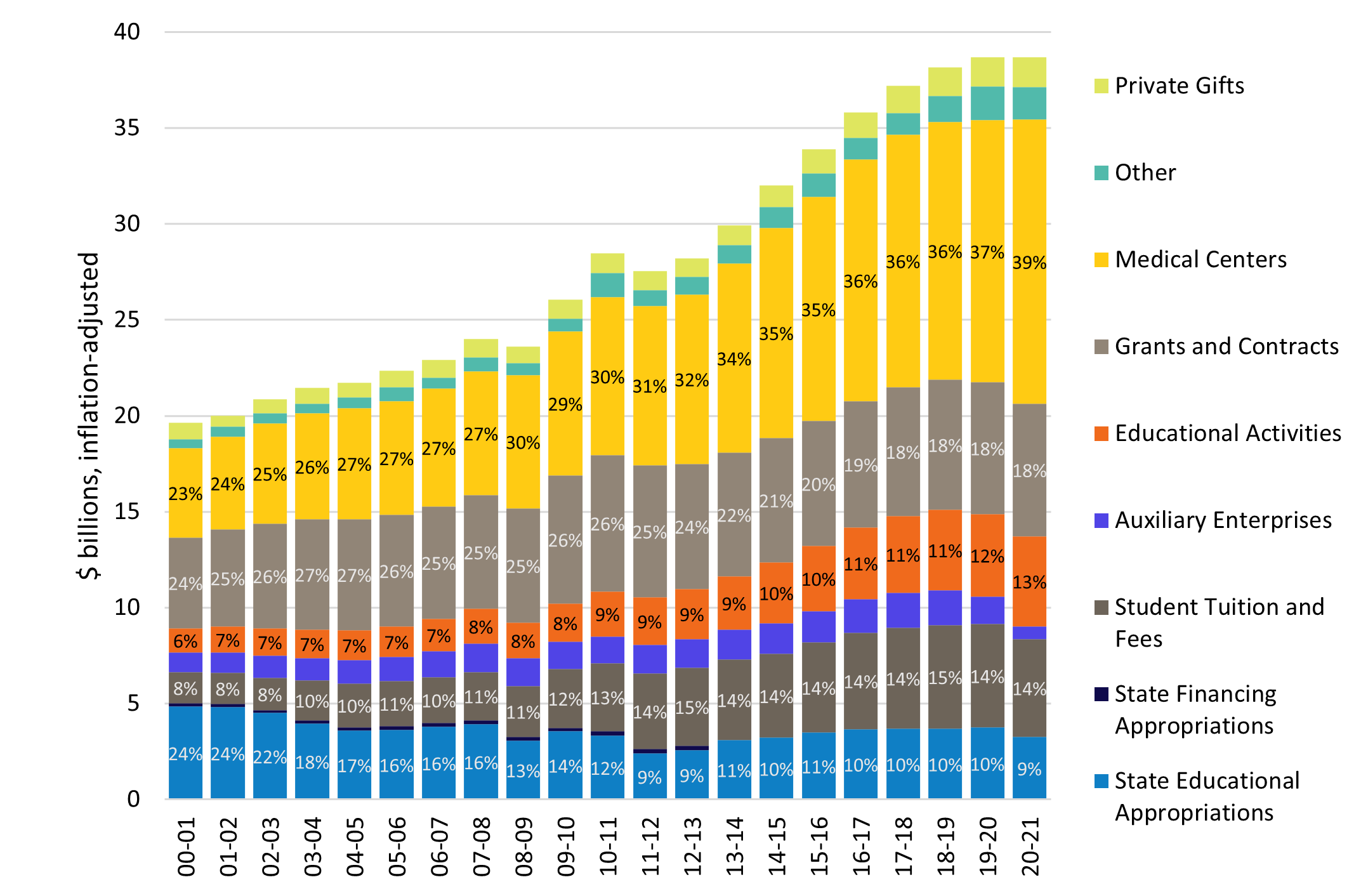 Source: UC Revenues and Expense Trend Report. Amounts do not include Department of Energy Laboratories.
Two major trends are reflected in the University's revenue sources over time. First, revenues associated with the University's medical centers and related activities have grown substantially since 2000–01. Medical center revenues now represent 39 percent of all UC revenues. On top of this category, a significant portion of revenues shown as "Educational activities" above is also related to health services.
Second, among the University's core fund revenues, State appropriations now contribute less to the University's operating budget than student tuition and fees. In 2020–21, State General Funds comprised 39 percent of UC's core fund budget, while student tuition and fees comprised 43 percent.
Historically, State funding had been the largest single source of support for the University's core budget. State support has declined from 87 percent of core funds in 1980–81 to 39 percent in 2020–21.
The COVID-19 pandemic further complicated the University's revenue sources. In addition to State and federal budget volatility driven by the pandemic, there were significant impacts to medical centers and auxiliary enterprises. Revenue losses were offset by the 2020 Coronavirus Aid, Relief, and Economic Security Act of 2020 ("CARES Act"), Coronavirus Response and Relief Supplemental Appropriations Act, 2021 ("CRRSAA"), and American Rescue Plan ("ARP"), which provided federal funding via Higher Education Emergency Relief Funds ("HEERF") I, II, and III.